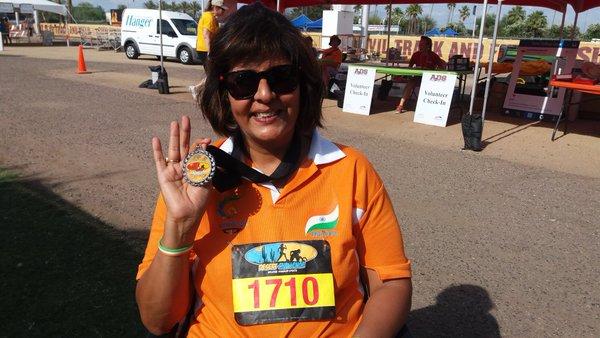 IMAGE: India's Deepa Malik won a silver medal at the Rio Paralympics Games. Photograph: Twitter.
The first Indian woman to clinch a Paralympics medal, a thrilled Deepa Malik says her F-53 shot put silver is the result of being daring enough to dream.
Her Deepa's best throw of 4.61 metres from six attempts was enough to clinch the silver medal.
"I dared to dream and I have determination to work hard and the passion and perseverance to follow that dream. Women often lose that and I have ensured that my family is not neglected, my children are doing well too," Deepa said.
A paraplegic -- paralysed from waist down -- Deepa is married to an army man and a mother of two.
The 45-year-old was consigned to the wheelchair 17 years ago after being operated for a spinal tumour.
She underwent 31 surgeries, which healed after 183 stitches between her waist and legs.
"I am very happy to win this medal and I am so glad that I could do this for my country. I really want to thank my coaches and my trainers, Sports Authority of India, and the Sports Ministry for funding my training so beautifully.
"I also want to thank my husband, for being my skill trainer, and my daughters, for being my strength and motivation. I am so eager to come back to India," she said.
Deepa had won national and international medals in swimming, before switching to athletics in 2009.
"I was the first biker, first swimmer, first rallyist (rally driver) and I am going to be the first Paralympian medallist. This is huge. I give it to my daughters. I give it to my husband, my trainer, my country. I am so excited."
Deepa may have even won the gold, but for a mighty third throw of 4.76 metres by Bahrain's Fatema Nedham, which was a regional record.
Greece's Dimitra Korokida won the bronze with an effort of 4.28 metres.
In 2009, Deepa was the first person with paraplegia to ride in one of the world's highest and most difficult motor rallies in the Himalayas.

Her success comes after two Indian men – high jumpers Mariyappan Thangavelu and Bhati Varun Singh – won gold and bronze respectively at the Olympic Stadium on Friday.