The victory over Asia's top-ranked team boosted India's chances of making the quarter-finals.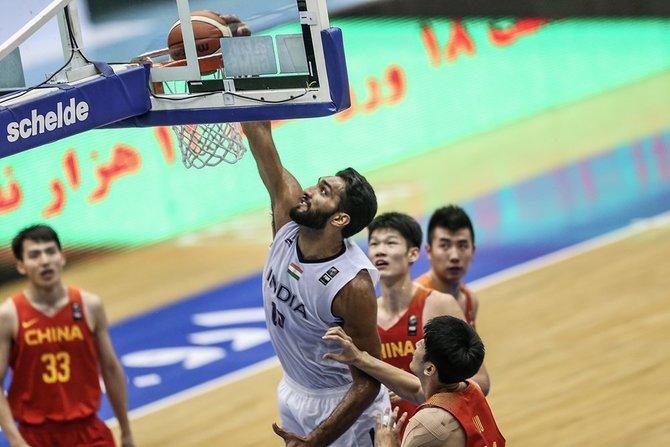 IMAGE: Indian players in action against China. Photograph: FIBA.
India's men's basketball team pulled off a rare feat, stunning formidable China in its second-round Group E encounter to stay in contention for a quarter-final berth in the FIBA Asia Challenge in Tehran on Monday.
The Indians triumphed 70-64 to hand the group-toppers their first defeat.
It was India's second victory in four matches; the team is currently placed third in the group.
The Indians, who need to finish inside the top four to make the last-eight stage, take on Kazakhstan in their final group encounter on Wednesday.
India had earlier beaten China two years ago in the FIBA Asia Cup.
The hero of Monday's triumph was Amritpal Singh. He carried the team to the momentous victory with a superb all-round performance.
China was ahead 17-14 after the first quarter, and extended the lead by 9 points in the middle of the second period.
However, India scripted a turnaround from thereon.
With China leading 27-18 in the second quarter, India tightened up their defense and went on the offensive, according to a statement from FIBA, the International Basketball Federation.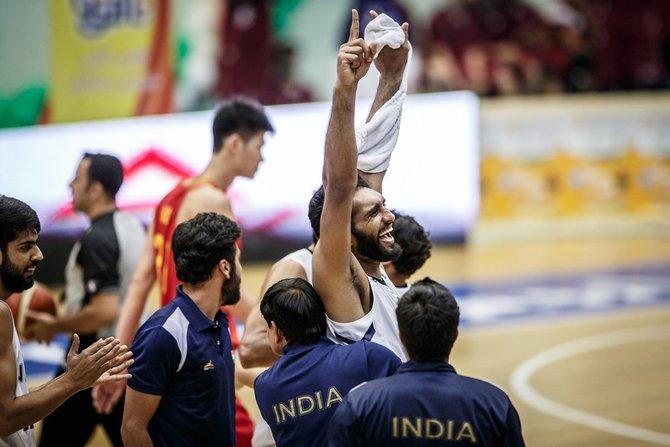 IMAGE: India's players celebrate victory over China. Photograph: FIBA.
Amritpal and Amjyot teamed up to spark a 13-2 run that ended the first half 31-29, and India with a slim two-point advantage at the break.
The Chinese could not surpass the lead after that.
The Indian defense was impeccable and forced the Chinese into committing errors.
India scored 22 points off turnovers.
The 25-year-old Amritpal, who plays professionally in Japan, registered 23 points, hauled down 14 rebounds, blocked three shots and had three steals in a fantastic show of skill.
He outplayed China's erstwhile star Hu Jinqiu, who managed 19 points and 9 boards.