Red Bull's Sebastian Vettel dominated free practice at the US Grand Prix on Friday as drivers got their first taste of Formula One's newest venue and gave it rave reviews up and down the paddock.
-Is Sunday's F1 race weird enough for Austin, Texas?
Vettel, who can clinch his third straight drivers' title on Sunday at the $400 million Circuit of the Americas, was quickly up to speed on the spectacular undulating 5.516km (3.4 mile) track carved out of the south Texas scrublands.
-Hamilton denies any regrets over move to Mercedes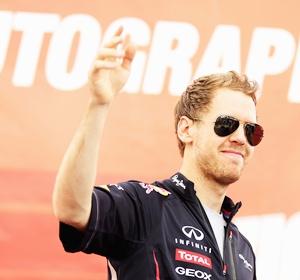 The 25-year-old German set the early pace in the morning with a best time of one minute 38.125 seconds then improved on that in the afternoon, despite missing much of the session due to a water leak, by clocking 1:37.718.
-'F1 will never succeed in the US'
"It was slippery this morning and a bit like driving on ice. It wasn't so easy," said Vettel. "We had a bit of a problem this afternoon and so couldn't run as much as we wanted, but we got two good runs which is important for tomorrow and Sunday."
The champion's afternoon time, 0.7 seconds quicker than Australian team mate Mark Webber in 1:38.457, underlined Red Bull's intention to end the title chase in Austin.
"It's been a great day for us," Red Bull principal Christian Horner, whose team are all set to clinch their third constructors' title in a row, told reporters. "It's incredible to see what has been done here.
"It's a great challenge, it's a great spectacle and hopefully this weekend we can put on a great show for our American fans and public and it will be a race to remember."
Ferrari's Fernando Alonso, 10 points behind championship leader Vettel and the only driver who can deny his German rival the title, had the third best time in both sessions to keep the pressure on his German rival.
McLaren's Lewis Hamilton, who won the last Formula One race held in the United States five years ago at Indianapolis, signaled he was ready to scrap for the victory again recording the second effort in the morning and fourth fastest in the afternoon.
"This is a great drivers' track -- it's very tough to pull together three perfect sectors," said Hamilton, a three-time winner this season. "Overall, we've had a good day. Our main difficulty this morning was switching on the tyres in the cooler conditions.
"But we'll make some changes overnight -- there are definitely some improvements we can make."
The morning session, run in front of mostly empty grandstands, produced a few thrills as drivers came to grips on the slick undulating circuit.
While the 90-minute practice finished without major incident there were plenty of spins and more than a few forays into runoff areas as drivers tested the limits of the track.
Times improved dramatically in the afternoon and so did the crowds offering hope that Formula One may have finally found a permanent home in Texas.
"It is an enormously challenging circuit," said McLaren team boss Martin Whitmarsh. "There are a lot of different corners on this circuit, it is kind an assembly of corners from other circuits and tried everything here.
"The topography is great, there is something about hills and dips and blind corners which make it very challenging for drivers and makes it look great."
Despite being a new circuit and the pressure of having a championship on the line, Horner said his team is trying to approach the US Grand the same way it does every other race.
"The team's very focused," said Horner. "We're really concentrated on getting the most out of this weekend and trying not to allow other distractions to interfere with our preparation and performance.
"We've come here to do a job and then the championships will tend to take care of themselves.
"Our approach here is no different here to any other race. There's obviously a bit more hanging on it than others as we've got to the business end of the championship."
Photograph: Mark Thompson/Getty Images