Americans have had a long-standing love affair with the car but the romance of Formula One, that sets hearts of motor sports fans around the world a flutter, has never managed to get pulses racing in the United States.
After a five-year hiatus, F1 returns to the United States this weekend for the US Grand Prix at the $400 million Circuit of the Americas, where Red Bull's Sebastian Vettel can clinch a third successive driver's title.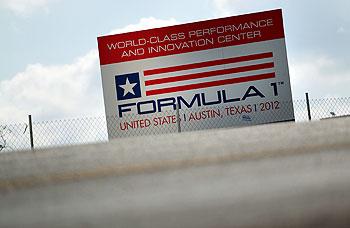 As jet-setters, high rollers and A-listers descend on Austin, the quirky Texas capital is gearing up for a week that will see an estimated $220 million poured into the state economy.
Hotel rooms, if one can be obtained, are going at triple the normal rates while rental car companies are sold out and requests for reservations at one of the city's top restaurants are met with a laugh.
In the United States, however, the appeal of motor racing's glamour circuit has somehow been lost on the country that sells more Ferraris and Porsches than any other and it is likely more eyeballs will be focused on Homestead, Florida on Sunday where NASCAR's Chase championship will be decided.
"The truth is we find that there is no crossover," Eddie Gossage, the president of Texas Motor Speedway near Dallas, which hosts two of NASCAR's biggest races, told Reuters.
"NASCAR fans tend to look down their nose at Formula One fans and Formula One fans tend to look down their nose at NASCAR.
"It's apples and sausages, it's not even apples and oranges they are so unlike each other.
"First of all road racing isn't an American sport, oval racing is.
"It's like soccer in this country. It has never succeeded and I don't think it will ever succeed because it is not our game.
"It's not an American sport and that is never going to change."
The US has been a market Formula One covets but is also one that commercial supremo Bernie Ecclestone has viewed as more of a luxury than a necessity as the circuit searched out new venues to expand its global brand.
But the teams, car manufacturers and sponsors have not been so cavalier about the importance of having a US race on the calendar with all of them keen to return to one of their biggest markets.
Once focused on wooing over NASCAR and IndyCar fans, F1 now appears more intent on catering to its base in yet another attempt to crack the US market, with the Austin venue the 10th to host the race.
"They need to be here," said Gossage.
"It's the world's largest economy and Formula One is a global sport so it's an obvious hole on their schedule."
Gossage, whose track attracts more than 140,000 spectators to each race, said he was unthreatened by Formula One's appearance in Texas and wished US Grand Prix promoters luck, then added they would probably need it.
"I think a lot of people were surprised about Austin it isn't a large market or an international market," he said of the Texan state capital.
"I think it will be quite successful this year the question is can it sustain that success.
"You look at the history of Formula One in the US and it has never maintained any degree of success in the last 30 years.
"I hope they can but it is going to be a challenge ...they (Formula One) haven't made it easy for themselves."
Photograph: Tom Pennington/Getty Images for Red Bull