The Indian Grand Prix [ Images ] trophy was unveiled at Buddh International Circuit on Friday.
Sanjay Kapoor, CEO, Bharti Airtel [ Get Quote ] Limited, India [ Images ] & South Asia, Bernie Ecclestone [ Images ], President and CEO of Formula One Management and Administration, Manoj Gaur, Executive Chairman, Jaypee Group and Bharat Bambawale, Global Brand Director were present at the event.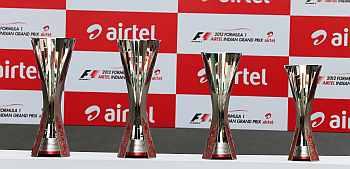 The trophy is an aesthetic interpretation of a contemporary and forward looking India on a global pedestal. The trophy personifies the energy of the Indian Grand Prix and showcases the best of technology, design and glamour, resonating Formula One's legacy.
Photograph Courtesy: Buddh International Circuit