Red Bull's pre-season problems showed little sign of easing in Bahrain testing on Wednesday with four-times world champion Sebastian Vettel managing only 14 laps on the first day.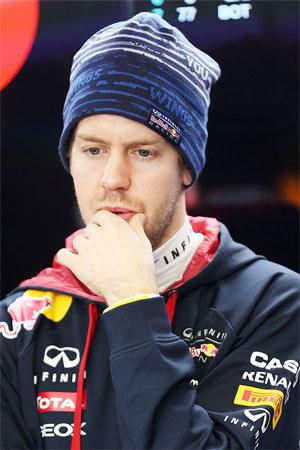 The Renault-powered team, who did the same number of laps over four troublesome days in last month's first test in Jerez in southern Spain, said a mechanical issue sidelined the German at the Sakhir circuit.
"Obviously we're not happy with where we are now and we have a long way ahead of us," said Vettel in a team statement.
"The first gut feeling from the car is OK but we need more running.
"It's not easy to find a quick fix but I think we understand the problems," added the 26-year-old. "We sorted out the issues from Jerez and we were able to do some laps today.
"However, very often you fix one problem and another pops up -- which is what happened."
Formula One has a new V6 turbocharged power unit with energy recovery systems this year, replacing the old V8s, and Renault have had more problems than Mercedes and Ferrari in getting their teams up to speed.
"We all knew this year was a massive challenge and we knew it would be difficult. We obviously didn't want this but it is what it is and we are working flat out to solve the problems," said Vettel.
Renault said ahead of the second four-day test of the year that they were making good progress on the faults that had plagued teams in Jerez.
PLAYING CATCH-UP
Red Bull's race engineering co-ordinator Andy Damerum said there had been a big improvement since Spain but the team was playing catch-up with rivals.
He said the issue on Vettel's car was unrelated to the problems in Jerez.
Germany's Nico Hulkenberg was fastest on the first day for Force India after putting in 78 laps.
He was followed on the timesheets by Ferrari's Fernando Alonso, who did 64, and Mercedes' Lewis Hamilton with a healthy 74 under his belt.
"It's been impressive to see us start the Bahrain test with good mileage and reliability especially when you see how difficult it is for everyone with the new regulations," said Hamilton.
McLaren's new Danish recruit Kevin Magnussen put in 81 laps and was fourth fastest.
Lotus showed off their new Renault-powered car with a twin prong nose but had teething problems after missing the first test. Frenchman Romain Grosjean managed only eight laps.
"It's no secret that we're frustrated as we want to get laps on the board to understand our new car and all the different elements it contains," said trackside operations director Alan Permane.
"The power units contain a lot of new technology and certainly we had issues with the energy store unit today."
Renault-powered Caterham fared better, with reserve driver Robin Frijns managing 68 laps.
Photograph: Mark Thompson/Getty Images