Fernando Alonso failed to win a third Formula One championship on Sunday but the Ferrari driver still rated his season as the best of his career.
The two titles he won with Renault in Brazil in 2005 and 2006 seemed to fill him with less pride than the defeat to Red Bull's Sebastian Vettel because he felt he was battling against the odds this time.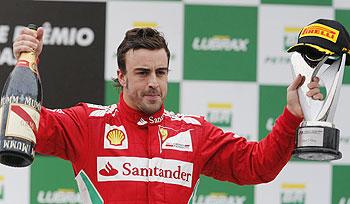 Two years ago in Abu Dhabi, he had lost out to Vettel after taking a 15 point lead into the final race. At Interlagos on Sunday, he almost clawed back the 13 he needed to overhaul the German.
"Here is completely the opposite," he said after finishing the final race of the season in second place after starting seventh.
"I'm so proud and I'm so happy to fight until the last lap with the package we have in our hands.
"That is the best thing for me, to feel proud of myself. It was by far the best season of my career and I will remember this 2012 like some dream season," added the 31-year-old.
"Obviously we didn't achieve the points to win the title but I won so many things this year: So much respect from everybody."
Alonso won three races in 2012 but finished on the podium 13 times in 20 races despite starting the season with a car that looked way off the pace.
He also failed to finish two races, in Belgium and Japan, through no fault of his own after being dumped out in collisions with the Lotuses of Frenchman Romain Grosjean and Finland's Kimi Raikkonen.
The Spaniard has been acclaimed throughout the paddock as the driver of the season, wringing the maximum out of a Ferrari that on paper should not have been getting on the podium after qualifying so far behind rivals.
Ferrari president Luca di Montezemolo agreed his driver's performance had been 'simply fantastic' while team principal Stefano Domenicali said Alonso "like never before, really deserved to win this time.
"He has been extraordinary, not just in the way he has driven, nor because he simply never gave up in the first very difficult part of the season, but mainly for the human qualities he demonstrated within the team," he said.
"Fernando ended where he did, having effectively only taken part in 18 of the 20 races: the few hundred metres he covered in Spa and then Suzuka lays heavy like a rock on today's outcome."
Photograph: Paulo Whitaker/Reuters