Winner of two Formula One championships in Brazil, Ferrari's Fernando Alonso says he feels less pressure and has nothing to lose as he chases another in Sunday's title-decider at Interlagos.
-Vettel pays tribute to boyhood hero Schumacher
The Spaniard is 13 points behind Red Bull's Sebastian Vettel and must finish on the podium to have even a chance of becoming a triple champion.
-Perez spills the beans on Gutierrez race drive
In 2010 he led Vettel by 15 points going into the season-ending race in Abu Dhabi but lost out after his team botched the strategy.
-Vettel can take nothing for granted
In 2005 and 2006, when he took his titles with Renault, he led ahead of the Interlagos finale.
-Force India to get investment boost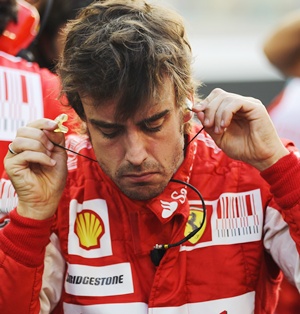 "In Formula One there's always pressure but definitely we have less than on some other occasions and maybe less than probably if we were leading the championship," the Ferrari said.
"We have nothing really to lose. We are arriving in second position, we are arriving after two qualifyings dominated by Red Bull -- well, five or six -- and then we were around positions seventh, eighth (on the grid) in the last couple of Grands Prix.
"It looks like a very difficult achievement and... if everything goes normally, we should finish second... it's probably not in our hands, the pressure is much less."
Qualifying has been Ferrari's weak point in an unpredictable season but Alonso has been able to stay in the hunt thanks to his car's reliability and race pace.
The 31-year-old has been on the podium 12 times in 19 races this season, including three wins, despite having a car that looked uncompetitive back in March.
Vettel, who is chasing his third championship in a row, has won four times in the last six races (five wins in total) and been on the podium 10 times.
Sunday's race follows immediately on from last weekend's US Grand Prix in Austin and Alonso said there was no 'magic part' to put on the car.
The Spaniard was philosophical about Sunday, which looks likely to be a wet race and therefore unpredictable, and said he would have more chances in the future if Vettel lived up to expectations this time.
"I'm at Ferrari for the next four or five years, minimum," he said. "So I think that will always give you the possibility to fight for world championships.
"So I have no doubt that in the next four or five years there will be more fights and more championships. But let's concentrate on this one.
"If we win, we will be very happy but we know we need a strange combination of results," said Alonso. "If we don't win, we will congratulate him and we will try next year. Nothing really surprising."
Photograph: Paul Gilham /Getty Images