Force India's Adrian Sutil reacted coolly on Thursday to suggestions that his Formula One drive could be at risk after a complaint of grievous bodily harm was filed against him by a Renault team official.
The German and his manager Manfred Zimmerman said they had yet to receive any documents but Germany's Frankfurter Allgemeine newspaper quoted a spokesman for the Munich state prosecutor's office as saying a complaint had been registered and would be investigated.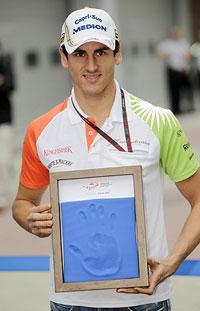 The case dates from the Chinese Grand Prix in April when Eric Lux, chief executive of Renault F1 team owners Genii Capital, accused Sutil of injuring him in a Shanghai nightclub fracas.
Force India owner Vijay Mallya said at the Monaco Grand Prix in May that any team action against Sutil would be taken only if the driver was formally charged, which had not happened at that point.
"There's a story out there now since a few months, what can I say? I have to concentrate on my job," Sutil told reporters at the European Grand Prix.
"Of course it's a bit strange that it (the complaint) took so long but now it's out, and let's see," he added.
"After this weekend what should happen? Why should I lose a drive? It (the action) is a private thing and that's my work here."