Force India will take action against their German driver Adrian Sutil only if he is formally charged with assault, the Formula One team's owner Vijay Mallya said on Thursday.
Eric Lux, chief executive of Renault F1 team owners Genii Capital, accused Sutil of injuring him in a Shanghai nightclub incident after the Chinese Grand Prix in April and his lawyer has threatened a criminal complaint.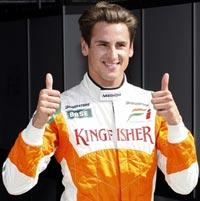 Mallya said at the Monaco Grand Prix that Force India was not aware of any formal complaint being filed in any country against their driver.
"I'm not willing to jump to any conclusions, based on a press release that has been given out by a potentially or supposedly aggrieved party," he said.
"I don't know what happened there, none of my people know what happened at that particular incident so there's a due process of law.
"So if Adrian is to be charged with misconduct, let him be charged. If and when he's charged, I will assess the situation."