A section of the All Indian Football Federation is likely to strongly oppose the extension of national coach Armando Colaco's contract when the matter comes up for discussion in a crucial executive committee meeting in New Delhi.
Armando's four-month contract will expire later this month and though he had expressed his willingness to continue provided the federation wants him, a powerful lobby within the AIFF is against the Goan.
ources in the AIFF said that the cancellation of India's international friendly against Barbados in the Caribbean tour last month and Dempo's signing of Trinidad and Tobago international Denzil Theobald, who was in the 2006 World Cup squad, have angered a section of the federation top brass.
Sources said that some top officials are under the impression that Armando was doubling up as national coach as well as Dempo scout during the tour of the Caribbean.
It must be noted that Armando, besides coaching Dempo for many years, is also the club's general secretary.
There is a strong possibility of some executive committee members raising the issue tomorrow.
"The matter is going to be raised tomorrow at Exco meeting. It is unethical and involves conflict of interest," an official, who is a member of the committee, said on condition of anonymity.
AIFF general secretary Kushal Das, however, said that it was a matter, which has nothing to do with the national team.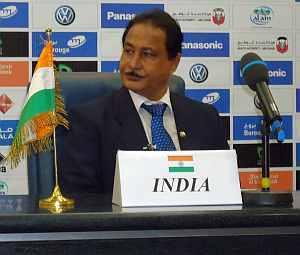 "This is news to me. I don't know about Dempo signing a Trinidad and Tobago player. But it is a matter related to Dempo only and not the national team," said Das.
Colaco has had a decent four-month stint as national coach with one win, two draws and three losses in the international matches India had played during the time.
Another important issue that would come up in Thursday's meeting is the appointment of technical director who will oversee the overall development of Indian football.
Dutchman Robert Baan is reportedly the frontrunner for the top job with his vast experience at the international level in many countries, but sources said that nothing has been finalised yet and the executive committee will discuss it threadbare.
The date of start of I-League and the broadcaster of the tournament will also be discussed.
The AIFF was initially thinking of starting the I-League in late October, but it can also be advanced by some days.
The question of live telecast of the I-League has become important as the commercial partner of the AIFF, the International Management Group, has not been able to find an official broadcast partner nine months after it signed a Rs 700 crore deal with the federation last December.
The ongoing Federation Cup in Kolkata and Pune is being telecast only in Bengal and Assam through local channels though the Doordarshan has agreed to show some matches – the quarter-finals, semifinals and the final in all likelyhood.