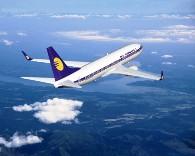 The Industry Ministry is in favour of allowing foreign airlines to invest in domestic carriers, saying it would help the cash-crunch industry to raise equity, an issue that does not find support among many Indian airlines.
The Department of Industrial Policy and Promotion (DIPP), an arm of the industry ministry which deals with FDI related matters, has sent several letters to the Civil Aviation Ministry on the issue of allowing foreign carriers to invest.
"The Indian aviation industry is in a crisis. If they get equity from foreign players, we should not come in the way," a senior DIPP official said.
In response to the DIPP letters, the Civil Aviation
Ministry has said that the matter was under their consideration. FDI up to 49 per cent is allowed in domestic airlines or 100 per cent for investments by NRIs, but the policy bars foreign airlines from investing, primarily on security grounds.
Also, there is a strong feeling among some major airlines like Jet Airways that fledgling Indian carriers are susceptible to hostile takeovers as they have been passing through a difficult financial period.
The proposal to allow foreign carriers to invest in domestic airlines has seen open support only by Kingfisher Airlines promoter Vijay Mallya. But the opponents feel that a foreign carrier, with deep pockets, could play havoc with the domestic market.
They could also artificially lower the price of air travel to kill domestic competition.