Brazilian Bruno Senna will race for Williams this season, following in the footsteps of his late uncle and triple world champion Ayrton who died in one of the Formula One team's cars at the 1994 San Marino Grand Prix.
- Click here for Rediff Realtime News!
The former champions, who have carried Senna's name on all their cars ever since that fateful May afternoon at Imola, said in a statement on Tuesday that the 28-year-old would partner Venezuelan Pastor Maldonado.
Senna, who made his F1 debut with the struggling HRT team in 2010 and competed in the last eight races for Renault last year as a stand-in, will start testing with Williams at Spain's Jerez circuit on February 9.
He replaces 39-year-old compatriot Rubens Barrichello, a family friend who made his race debut in 1993 with Ayrton as his mentor, whose Formula One career now appears to be reluctantly at an end after 19 seasons, 11 race wins and more starts than any other driver.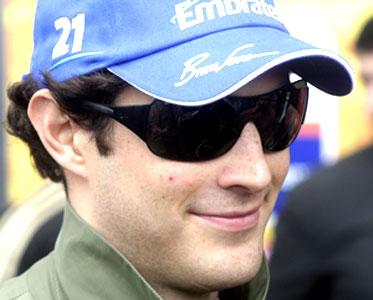 "It will be very interesting to drive for a team that my uncle has driven for, particularly as quite a few of the people here actually worked with Ayrton," Senna, whose mother Viviane was Ayrton's older sister, said in a statement.
"Hopefully we can bring back some memories and create some great new ones too.
"I also want to get some good results in return for the support my country has given me to help get me to this position today. I am very proud to be Brazilian and more motivated than ever to demonstrate what I can do."
No financial details were given, but Senna is expected to bring a significant Brazilian sponsor with him to a team currently searching for a new title backer after the departure of telecommunications giant AT&T.
Senna, who raced karts with Ayrton on the family farm and also features in the recent award-winning documentary about his uncle's life and death, wears a blue cap with the branding of Brazilian telecoms company Embratel, his personal sponsor.