One of the most remarkable weeks in the life of Harry Redknapp ended on a high when his entertaining Tottenham Hotspur side crushed Newcastle United 5-0 in the Premier League on Saturday.
 - Rooney helps Man Utd down Reds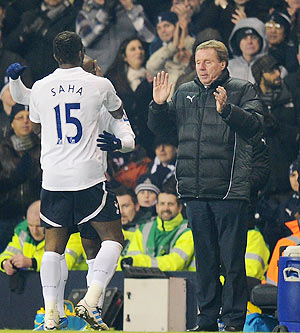 Redknapp, widely tipped by the media to be the next England manager, sat in the dugout after a rousing reception from the fans to watch his team make a blistering start with two goals in the first six minutes and they were 4-0 ahead by halftime.
Emmanuel Adebayor epitomised the home side's determination with a hand in all four first-half goals before scoring a spectacular volley of his own to give Spurs their biggest league win of the season and consolidate third place in the table.
The supporters, faced with the prospect of losing their manager to England, let their feelings be known.
On a night of freezing temperatures at White Hart Lane, they repeatedly chanted Redknapp's name, singing "We want you to stay" at the 64-year-old coach who has transformed Spurs from relegation candidates to title contenders in three years.
He applauded the crowd after his own personal emotional roller-coaster, which saw him cleared on Wednesday of two charges of evading tax after a 13-day trial before being installed as favourite to replace Fabio Capello as England boss.
Redknapp said again that as far as he knew the FA had not approached his chairman Daniel Levy about the job and he was totally focused on Spurs who are on track for a place in next season's Champions League, if not their first title since 1961.
They now have 53 points, five behind leaders Manchester United and four off Manchester City, who play on Sunday.
"It was difficult to prepare for this game," Redknapp said. "It was the most difficult week I've ever had.
"I wouldn't want to put anybody through what I've been through, for sure... what it did to me and what it has done to my family, well that was worse.
"But it's behind us now and the week has turned out well. We've had a win so it has turned out a good week in the end."