Reports in British media put the latest bid at 125 million euros.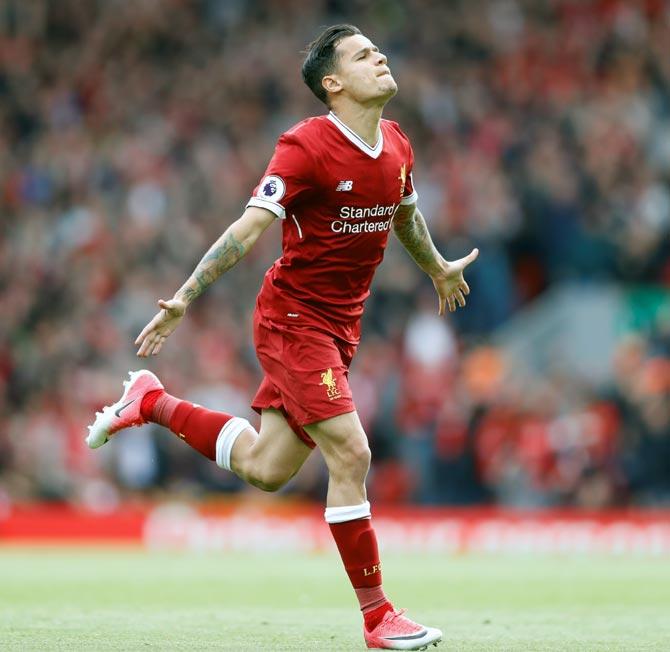 IMAGE: Philippe Coutinho celebrates scoring a goal. Photograph: Carl Recine Livepic/Reuters
Liverpool have rejected a third bid from Barcelona for playmaker Philippe Coutinho, sources said on Friday.

Reports in British media put the latest bid at 125 million euros ($146.85 million), as the Spanish club continue to seek a replacement for Coutinho's Brazil team mate Neymar, who they sold to Paris St Germain for a world record 222 million euros earlier this month.

Manager Juergen Klopp has previously insisted that the 25-year-old would not be sold, although last weekend he said that if Liverpool's owners decided to accept a bid there was nothing he could do about it.

Coutinho will miss Saturday's match at home to Crystal Palace because he still has a back injury, Klopp told reporters on Thursday.
Klopp opens up about Coutinho's possible Barca move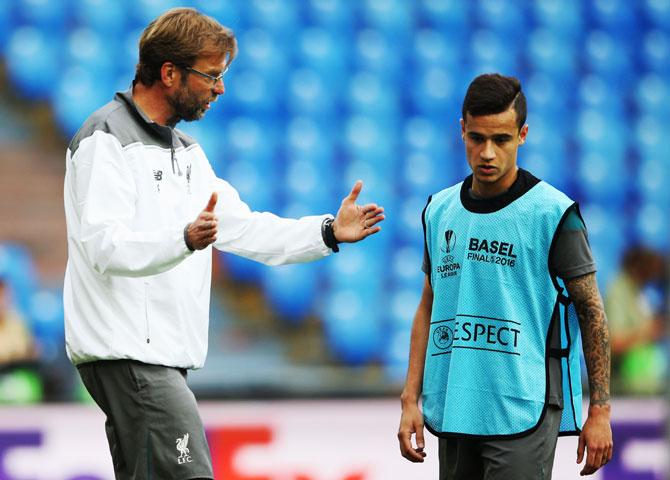 IMAGE: Liverpool manager Juergen Klopp talks with Philippe Coutinho during a training session. Photograph: Lars Baron/Getty Images
Liverpool midfielder Philippe Coutinho, who is a target for Barcelona, has not recovered from a back injury and will miss Saturday's Premier League match against CrystalPalace, manager Juergen Klopp said.
Coutinho, who submitted a transfer request last week according to British media reports, missed Liverpool's 3-3 draw at Watford last Saturday and the first leg of their Champions League playoff, a 2-1 win over Hoffenheim on Tuesday.
"Phil is not available. Not in training so far," Klopp told reporters on Thursday, adding that he had nothing negative to say about the player's attitude.
Barcelona's sporting manager Pep Segura said on Wednesday that the Spanish club were "close" to signing Coutinho, despite Liverpool's manager and owners saying the 25-year-old is not for sale.
Klopp said on Thursday that nothing had changed with their stance.
"I don't know why other people are saying what they're saying (about Coutinho moving to Barcelona). I don't even know him (Segura). I have never met him," Klopp said.
"We are not silly, we know it is a very difficult situation -- but there's nothing new to say. It's not always easy for me to say the 100 percent truth... But this time this is the situation."
Liverpool have had a relatively quiet transfer window compared to many of their rivals, signing defender Andrew Robertson, winger Mohamed Salah and striker Dominic Solanke.
They have been linked in British media with moves for Southampton defender Virgil van Dijk and midfielder Naby Keita from RB Leipzig, but both players' clubs have said they are not for sale at any price.
Fans have expressed frustration with Liverpool's failure to invest further in a squad that finished fourth in the Premier League last season, but Klopp said that he was happy with the players he has already.
"The whole market is difficult," Klopp said.
"If the transfer window had ended yesterday we already have a team I like. The transfer window is a very important time, but it's also important what we do with the actual team."
The manager said striker Daniel Sturridge, who sustained a thigh injury in pre-season, is fit to return for Liverpool's first home game of the season, which could prove a tough encounter.
Palace, who lost their opening match 3-0 at home to promoted Huddersfield, could become the first side to win four straight Premier League matches at Anfield.
"I am really looking forward to Anfield. It's our place. It's been a long time since we played there," Klopp said.
"We know it is a tough game. Probably both teams not overly happy (with their first games)."