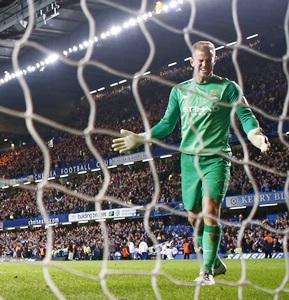 Two months after dropping him following a string of mistakes, Manchester City manager Manuel Pellegrini on Friday hailed goalkeeper Joe Hart as "the best in England".
England first choice Hart, 26, played his first Premier League game in nearly two months in the 4-2 win at Fulham on December 21 and produced several outstanding saves on Thursday when City beat Liverpool 2-1 at the Etihad Stadium.
"He has worked very hard in the last month and a half," Pellegrini told the City website. "He is the best goalkeeper in England."
Hart was replaced by Romanian Costel Pantilimon early in November, one week after an error that allowed Fernando Torres to score Chelsea's winner in a 2-1 Premier League triumph at StamfordBridge.
At that time, he appeared to be suffering a loss of confidence although Pellegrini did still pick him for Champions League and League Cup matches.
His reflex saves to deny Philippe Coutinho and Jordan Henderson in Thursday's thriller suggested any such crisis is now behind him.
City's win enabled them to leap-frog Liverpool into second place in the Premier League behind Arsenal.
Pellegrini added: "I am very pleased with Joe... Not only (for) now, but I think in all the games he played in the last month. He did very well.
"I thought it was good for Joe to have a rest. He was not in his best moment."
Hart's restoration helped City recover from a one-goal deficit against Liverpool.
"It was a very important win because Liverpool was the best team in the Premier League and they were at the top of the table before the match.
"It's important that we showed the personality to come from behind to win the game."
Pellegrini also warned: "We play against CrystalPalace in less than 48 hours (after playing Liverpool) and we have to be ready for that."
City captain Vincent Kompany echoed those thoughts. "These fixtures bring different challenges and there is a lot to take account of - as much as we would like to call ourselves favourites, there will be fatigue and, being the festive period, the games come thick and fast," said the Belgian defender.
"There have already been one or two surprise results and my experience is that Tony Pulis' teams are really organised and difficult to beat."
Palace climbed out of the bottom three with a 1-0 win at Aston Villa on Thursday, extending their improved run to include four wins in seven games.
Image: ManchesterCity goalkeeper Joe Hart reacts after a Chelsea goal during the English Premier League
Photograph: Eddie Keogh/Reuters