Real Madrid president Florentino Perez gave little away on his club's progress in trying to sign Tottenham Hotspur's Gareth Bale during an interview on Thursday.

The nine-times European champions have made the Welsh winger their priority and the 24-year-old is reportedly keen to move to the Bernabeu, but Tottenham chairman Daniel Levy is renowned as a tough negotiator.

Perez was asked if he had met with representatives from Tottenham in the United States, where the club are on a pre-season promotional tour.

"We talk to lots of people and we'll see what happens in our various negotiations. I refer to this player (Bale) and others," Perez told ESPN.

"We don't speak about other players out of respect for the player, their club and their president (Levy), who is a friend of mine.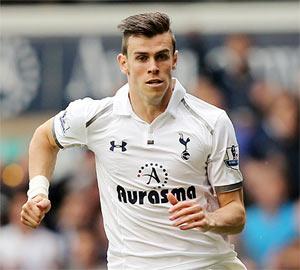 "We struck up a good friendship last year during the signing of (Croatia midfielder) Luka Modric."

Perez ducked the question when he was pressed about Bale and talk of a world record transfer fee that would surpass the 80 million pounds Real paid for Cristiano Ronaldo in 2009.

"If I don't speak about names, I don't speak about money," Perez added. "If you say 100 million euros, I would say that seems a lot....for anything.

"I am not going to speak about it because I shouldn't and I can't."

Another pressing issue for Perez are the negotiations with Portugal forward Ronaldo over a possible contract extension beyond 2015.

"Both parties have said we are convinced he will end his sporting career at Real Madrid," Perez said.

"At the end of the summer we will try and made sure it is all resolved. At the end of this month or the beginning of the next. There is no rush. It is my wish and I think it his too."
Photograph: Ian Walton/Getty Images