Manchester United defender Patrice Evra wasted no time in poking fun at Luis Suarez for his latest misdemeanour, pretending to chomp on a fake dismembered arm after his side clinched a 20th English title by beating Aston Villa on Monday.
A sports spoof account on Twitter [@BBCSporf] posted a picture of Evra biting into a fake arm.
- Liverpool's Suarez charged with violent conduct
- Fangs of fury: Suarez finds new fan in Tyson!
- Suarez shows appetite for trouble, bites Chelsea defender
The day before, Liverpool's Uruguay striker Suarez had bitten Chelsea defender Branislav Ivanovic during a 2-2 draw at Anfield -- a moment of madness for which he faces a lengthy ban from the Football Association.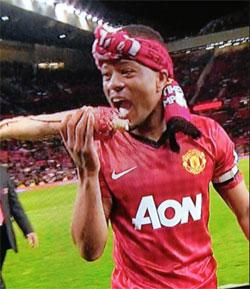 Suarez has been widely condemned for the bite, the second such incident of his career, and he was getting no sympathy from Evra who was embroiled in a racism storm with the Uruguayan in 2011.
Suarez was banned for eight games for calling Evra "negro" and when they next met on a soccer field he added to the bad feeling by refusing to shake the Frenchman's hand.
Evra's stunt has already lit up Twitter, with some Liverpool fans calling on the FA to take action.
Suarez, who has apologised for biting Ivanovic, has been fined by Liverpool and was charged by the FA with violent conduct on Monday.
The 26-year-old has until later on Tuesday to respond to the charge.
Image: Patrice Evra mocking Luis Suarez, by biting into a fake arm, while celebrating Manchester United's EPL title win on Monday.
Photograph: https://twitter.com/BBCSporf/status/326442896876240898/photo/1