World No 10 Marion Bartoli does not think drug cheats in tennis can escape detection as players are subjected to too many dope tests in and out of competition.
- Top tennis stars demand increased dope tests
Her observations were at odds with comments made by players such as Roger Federer, who following the Lance Armstrong doping scandal has called for more tests in tennis.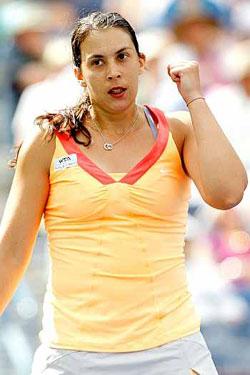 "I feel I'm being less tested this time now than six, seven, eight years ago," the Swiss 17-times Grand Slam champion said recently.
Frenchwoman Bartoli disagreed.
"I feel like we have too many drugs tests in tennis. I get tested 35-40 times every year," Bartoli told a news conference at the Paris Open.
"From my point of view, it's impossible (for cheats) not to get caught these days."
American cyclist Armstrong admitted this month that he had taken banned substances to win all seven of his Tour de France titles even though he never failed a drugs test during his career.
He was stripped off all the titles last year following an investigation by the United States Anti-doping Agency (USADA).
"Maybe Lance Armstrong was tested a lot and never failed a test but I just don't know how that is possible," added Bartoli.