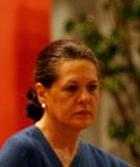 Amid rising cases of crime against women, Congress President Sonia Gandhi on Friday said 'our heads hang in shame' because of recurring incidents of rapes and other violence against women.
Flagging concerns about female foeticide and crime against women, Gandhi exhorted women not to bow down to difficulties in future and face them with courage as the country needs them at all responsible positions.Her remarks came as the country celebrates International Women's Day on Friday.
"Such incidents (rapes and crime against women) are happening all over the country.Our heads hang in shame because of these rapes and crimes against women," Gandhi said at the dedication of a Women's MedicalCollege and Convocation ceremony of BhagatPhoolSinghMahilaUniversity in Khanpur Kalan in Haryana.
Noting that the Congress-led UPA government has taken several steps to protect women and empower them socially and economically, she said a bill will soon be passed to tackle crime against women.
She spoke about government's budget announcement about earmarking Rs 1,000 crore each for opening women's banks across the country and Nirbhaya Fund. A bill has also been introduced to give share to women in parental property and to stop incidents of sexual harassment and domestic violence, she said.
Congratulating women on the occasion of Women's Day, she said, "One needs to take stronger steps to end the stigma on rape victims and other victims of crime against women. "It is the responsibility of educated girls and everyone to raise your voice against these social ills," she said.
Gandhi noted that more women are coming into panchayats and municipalities and this is a big step towards their empowerment. Emphasising on the need for educating girls, she said, "Giving good education to girls is a big social responsibility. If a woman is educated not only a family but the whole society is educated."
Talking about Haryana, she said the state is distinct as it is 'very progressive' but also 'old-fashioned'. "Why the number of girls are low here. This is because of mental backwardness. We have to change the thoughts and hearts of people," she said.
"The daughters of Haryana have talent, capability and courage. They have achieved unmatched success in the fields of sports, education and other areas," Gandhi said.
Stating that the country needs women at all positions of responsibilities, she exhorted the girls to prepare for bigger roles in all walks of lives. Speaking on the occasion, Haryana Chief Minister Bhupinder Singh Hooda highlighted the steps taken by his government for empowerment of women.
"Haryana government is committed for empowerment of common women in the state and numbers of steps have been taken by us in this regard...Our aim is to project Haryana as an example of women empowerment in the country," he said.
The aim of the state government is that women get equal opportunities in every sphere, Hooda said.