Yuki Bhambri fought back from the brink of defeat to script a stunning five-set victory over Daniel King Turner and give India a 1-0 lead in the Davis Cup Asia Oceania Group I relegation play-off against New Zealand in Chandigarh on Friday.
Vishnu Vardhan, ranked 262, was leading 6-2, 6-7(5), 6-4 in the second singles against Kiwi No 1 Jose Statham when the latter raised concerns about fading light and play was halted for the day. The match will resume on Saturday, before the doubles, and if Vardhan wraps it up in the fourth set, he will play the doubles as well.
In case the match is extended to the fifth set, Sanam Singh is likely to replace Vardhan for the doubles.
Conditions were gloomy when the match started after a 90-minute rain delay and Yuki's fortunes looked no better as he stared at a humiliating defeat after being down by two sets.
However, the Indian turned it around dramatically to score a 3-6, 0-6, 6-2, 6-4, 6-2 win after battling it out for three hours and 15 minutes at the CLTA tennis stadium.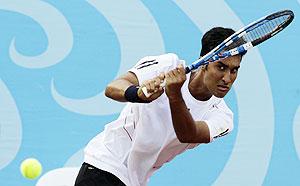 Yuki seemed in complete disarray to start with, but the 20-year-old slowed down the pace of the game by engaging the Kiwi in long rallies. The sting in his serve was back, errors were curtailed and, most importantly, the Indian snatched the momentum from Turner, whose patience ran out in the face of the crowd favourite's perseverance.
Successive breaks in game five and seven handed Yuki a 5-2 cushion, and he served out the third set after saving a break-point in the next game.
Yuki broke the Kiwi player in the first game of the fourth set to gain the advantage. But Turner fought hard and even saved a break-point in the fifth game, which he closed with an ace.
However, an early break of serve put the Indian in an advantageous position and it stayed with him as the two players held their serves after that.
Yuki dictated the terms as he set up points easily by opening up the court and executed the winners with ease.
Turner tried drop shots, but Yuki had the energy to reach out and put the ball back to his opponent.
He was up by two breaks -- game one and seven -- and served out the set and the match in the eighth game.
Earlier, Yuki struggled with his first serve. His left-knee was strapped and he found it difficult to keep the ball in.
Turner, in contrast, had made a bright start with an ace.
Yuki had three break chances in the fourth game, but squandered all. However, the Kiwi did not return the favour when the Indian was facing a break in the seventh game.
Another forehand error by Yuki gave Turner a chance to go up and he accepted the chance with a overhead volley winner.