Images from the Games: Day 1 | 2 | 3 | Medals Tally
Jamaican Leron Clarke emerged the fastest man of the Commonwealth Games, clocking the second quickest time of 10.12 seconds on Indian soil, while Australia's Sally Pearson won the women's 100m dash in 11.28 seconds on Thursday.
Pearson is the first Australian athlete in 36 years to win the women's 100m sprint.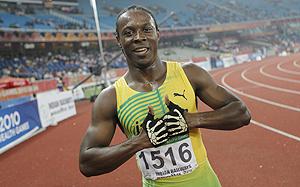 In the men's event, Clarke, who was left to lead Jamaica's 100m challenge in the absence of World and Olympic champion Usain Bolt, the last edition's fastest man - Asafa Powell, and Yohan Blake, won gold in front of a sizeable and vociferous crowd at the Jawaharlal Nehru stadium.
This is the third slowest time in Commonwealth Games history, after the 10.38s and 10.20s, both by Don Qurrie of Jamaica.
This is also the second fastest time in India after the 10.10s by Samuel Francis of Qatar in the 2007 World Military Games in Hyderabad.
Clarke led the eight-man field from the start after being the third fastest to kick out of the blocks. He eased through the finishing line with his hands raised.
His 10.12s effort was a tad less than his season's best of 10.10s and also below his personal best of 9.99s.
Englishman Mark Lewis Francis, who won a silver in the European Championships, was second with a timing of 10.2s while Trinidad and Tobago's Aaron Armstrong was third in 10.24s.
Pearson, on the other hand, was in contention for gold after the disqualification of England's Laura Turner, who had the best time this season among the eight finalists, following a false start.
In a depleted field, marred by a slew of star pull-outs, she was trailing Nigeria's Osayemi Oludamola (11.32s) but made up near the end to finish four-hundreth of a second ahead of her the Nigerian.
Natasha Mayers of St Vincent and Grenedians won the bronze in 11.37s. Pearsons's timing is also the third slowest in the Commonwealth Games history after the 10.27secs in both 1970 and 1974.
She is the first Australian to win gold after compatriot Raelene Boyle bagged the gold in 1970 ad 1974.