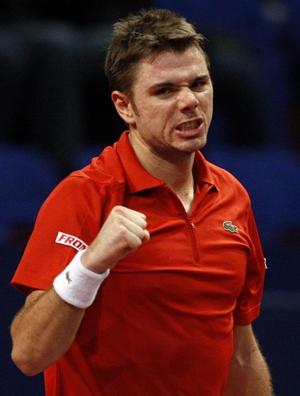 To remain in the shadows of a compatriot who has acquired legendary status is a tough job. Some players, like Austrian Gilbert Schaller, struggle despite being good enough, some (like Argentina's Jose-Luis Clerc) continue winning what they can but remain second-best throughout their careers, while a few don't even care to compete (Ion Tiriac).
Stanislas Wawrinka is simply carrying on.
In the shadows of Roger Federer for a long time now, the 24-year-old has enjoyed a few highs -- like a career-best ranking (No 9) in June 2008 - while also having to endure a few lows, the most important being the failure to make a major breakthrough despite playing professionally for seven years now.
The emergence of talents like Novak Djokovic, Rafael Nadal and, of course, Federer during the time he started his career meant Wawrinka had it tough.
And now, with more good players, like Andy Murray and Juan Martin del Potro, coming in it has become tougher.
"There are a few good new players coming for sure," observes Wawrinka. "And it is nice to see young players coming in every year. But if they make things tough, we will have to wait and see."
With competition increasing with each passing year, does he feel the need to alter his game?
"I always practice a lot and try to improve my game," says the Swiss. "I try to be more aggressive with my game. But I am not changing it at all," he adds.
After having a good year in terms of results in 2008 - that included an Olympic Games gold medal in men's doubles along with Federer, Wawrinka struggled throughout last year.
"Last year my performances were not so good," he admits, showing a hint of despair, before trying to display a more positive attitude.
"I would love to come back to the top 15 and play well in the majors, the big tournaments," he says, adding, "I hope this year the results will be better."
However, despite a not-so-memorable year, there are a couple of matches he feels were among his best thus far.
"There were two matches last year I remember in particular," says Wawrinka.
"Firstly, is the one I won against Roger in Monte Carlo," he adds, referring to his 6-4, 7-5 win.
"Beating Roger for the first time was a special moment for me. The other being the match I lost against Murray at Wimbledon," he continues, hinting at the thrilling five-set epic in the pre-quarters (fourth round), a match that also witnessed a first use of the new roof on Centre Court.
With so many players now challenging for the top spot, does he believe it will now be tough for his illustrious countryman?
"If they are able to challenge him seriously or not, that time will tell," explains Wawrinka. "But Roger is still the best  player in the majors; he made all the four finals last year and won two of them.
"So, he is No 1 by far, the best player," concludes the 24-year-old, who might as well have to end his career being the second-best Swiss player throughout.