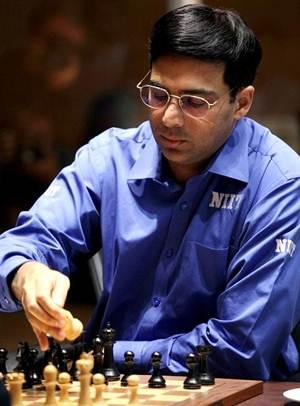 Five-time World champion Viswanathan Anand played out a fourth consecutive draw after signing peace with Peter Svidler of Russia in the seventh round at the Candidates Chess tournament in Khanty Mansiysk, Russia, on Friday.
At the half-way stage of the tournament, Anand has 4.5 points out of a possible seven.
He will have an easier second half wherein he has four white games lined up out of seven.
In other games, Veselin Topalov of Bulgaria was outdone by Dmitry Andreikin in a big upset of the day, while Russian Vladimir Kramnik was trying to find his way out against Shakhriyar Mamedyarov.
While Aronian has an excellent chance to catch up with Anand should he win, the other main contenders do not seem close enough.
Svidler was a bit tentative in the closed Ruy Lopez after Anand went for the Berlin defense, the flavour of the season.
The Indian got in to the groove pretty fast with his knights moving to the King side for some rapid action in the early stages of the middle game. Svidler felt the heat but did not give much away.
The critical moment was when Anand could win a pawn which was also suggested by all chess engines albeit hard to judge for a human mind. Anand, in the end, concluded that it was all a bit "messy", a sentiment echoed by Svidler.
However, the game was far from over as Anand came up with a positional queen sacrifice to liven things up. Svidler knew his chances of holding were high with pawns exchanges and the Russian wasted no time in pushing his brigade forward.
Anand could do little after a timely exchange sacrifice that left him with two rooks for a queen.
"In fact, his draw offer was useful; it helped me with my evaluation. Peter (Svidler) is not a devious guy, there are people who will offer a draw in a worse position," Anand said in the post-game conference.
The Indian ace conceded that he was not at his best in the game.
"I needed a lot of time and calm moves before I can threaten 'f3', I can't do it," he said.
Andreikin caused a sensation at the expense of Topalov, who was a pale shadow of himself.
It's been a roller-coaster ride for Topalov in the last three rounds as he lost one against Svidler, bounced back to beat Kramnik and now suffered a disastrous loss against Andreikin.
Topalov went for the Queen's gambit declined as black and faced a side variation. The Bulgarian got a decent opening with a temporary pawn sacrifice but missed the thread as he gave to much weightage to an optical attack against the king.
Andreikin steered his king to safety with a long walk to the queen side and the extra pawn did the damage thereafter.
Image: Viswanathan Anand