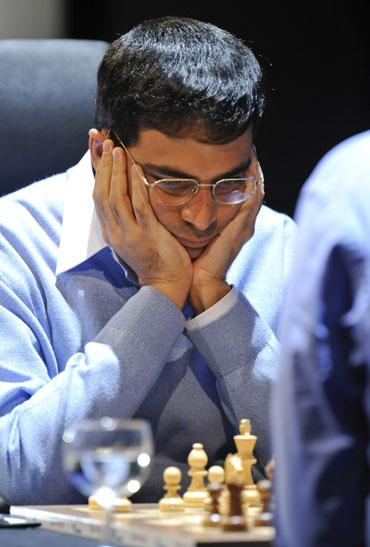 Five-time World champion Viswanathan Anand remained in sole lead after a third straight draw, signing peace with Russian Sergey Karjakin in the sixth round of Candidates Chess tournament in Khanty Mansiysk, Russia, on Wednesday.
After two victories in the first three rounds itself, Anand did not get many chances for the third day running even as Karjakin had to work hard for the half point.
It turned out to be another high-tension round in the Candidates that will select the challenger to Magnus Carlsen of Norway in the next World championship match later this year.
Bulgarian Veselin Topalov reacted like a wounded tiger after losing the previous round to Peter Svidler and defeated second seed Vladimir Kramnik of Russia in a fine display while Shakhriyar Mamedyarov of Azerbaijan put it across Peter Svidler of Russia to announce his arrival as a contender in the tournament.
If this was not enough, top seed Levon Aronian of Armenia spoiled all the hard work of the first few hours and mishandled a winning position to let Russian Dmitry Andreikin off the hook with a draw.
After the lopsided round, Anand took his tally to four points and remained a half point ahead of Aronian. While Kramnik and Svidler slipped to joint third spot along with Topalov and Mamedyarov who came back to a fifty percent score.
Karjakin moved to 2.5 points and is now on seventh spot, a half point clear of Andreikin who was simply lucky to survive on Wednesday.
Results Round 6: V Anand (Ind, 4) drew with Sergey Karjakin (Rus, 2.5); Veselin Topalov (Bul, 3) beat Vladimir Kramnik (Rus, 3); Shakhriyar Mamedyarov (Aze, 3) beat Peter Svidler (Rus, 3); Levon Aronian (Arm, 3.5) drew with Dmitry Andreikin (Rus, 2).
Image: Viswanathan Anand