Five-time world champion Viswanathan Anand played out a draw with Vladimir Kramnik in the fourth round but remained in sole lead to stay in contention in the Candidates chess tournament in Khanty Mansiysk.
On what turned out to be an easy day for the Anand, he played to the tunes of Kramnik for once as the Russian came up with some sterling preparation to keep the Indian at bay.
With two victories in three games, Anand was in for a rude shock in the game against Kramnik as for the first time the Indian ace found his preparation wanting at the tournament. Kramnik was in control as black and this was the first time in four rounds that Anand's preparation was not up to mark.
Kramnik's Vienna variation has been analysed extensively and Anand went for a variation which is conclusively drawn. Kramnik had analysed it well and better than Anand, something that the Indian ace might have hoped he had done better.
As it turned out, Kramnik had the final word on the variation and the game was drawn in the middle game itself vide repetition of moves.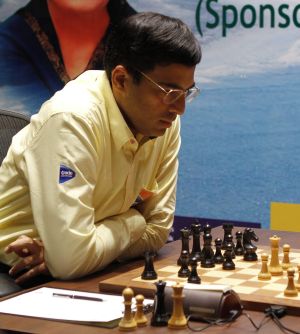 The draw took Anand to three points out of a possible four and the Indian remained in sole lead. Kramnik remained in tow of Anand on two and a half points and the Russian is now joined by top seed Levon Aronian of Armenia on 2.5 points.
For the records, Aronian scored a remarkable victory over Russian Peter Svidler while the other two games in the fourth round were fought hard.
Former world champion Veselin Topalov of Bulgaria signed peace with Sergey Karjakin of Russia while Shakhriyar Mamedyarov of Azerbaijain scored his first victory at the expense of Dmitry Andreikin of Russia.
With 10 rounds still to come, it's an early call yet. Anand, Kramnik and Aronian might be fighting at the top for a berth as the finalist for the next world championship, but the likes of Svidler, Karjakin and Topalov are fighting it through.
Topalov had no difficulties to keep the momentum against Karjakin in an English opening game while Mamedyarov was at his best for once in crushing Andreikin with white pieces.
While the easy draw may have hurt Anand, the Indian ace remains on course for one of the best performances of his life. Going by the trend, Anand will need two wins and draws in next ten games to emerge as the next challenger for Magnus Carlsen. But that will happen if the rest don't match him on points.
Image: Viswanathan Anand
Photograph: Babu/Reuters