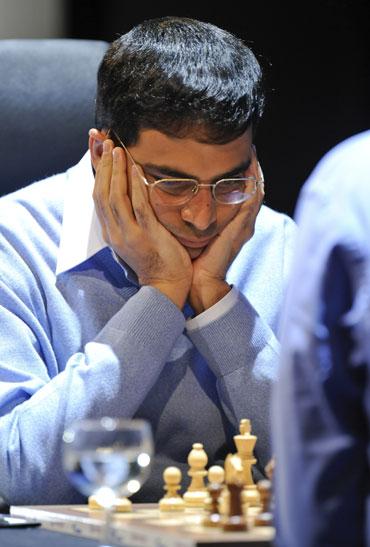 Indian chess ace Viswanathan Anand will find himself in the unfamiliar position of starting as the lowest-ranked player when he takes on a tough field in his first Classical tournament since losing the world title, in the Zurich Challenge, at Hotel Savoy in Zurich, starting January 29.
The small event, having just five rounds between six players, boasts of a strong field, led by reigning World champion Magnus Carlsen, who is playing his first tournament since clinching the champion's tag from Anand.
For Anand, it will be a new challenge and one can expect him to play at his best having had good rest. For the upcoming candidates tournament too, this could prove to be a good warm-up.
World No 2 Levon Aronian of Armenia, Fabiano Caruana of Italy, Hikaru Nakamura of United States and former World championship challenger Boris Gelfand of Israel complete the line-up of what is the highest category tournament ever in the history of the game.
This will be the first time that Anand starts a tournament as the lowest ranked player with his world rankings, at number nine.
According to the January list, Nakamura is third, Caruana fourth and Gelfand just a shade ahead of Anand at eight.
Anand's return to competitive chess after the World Championship was in the London Classic, but it was played under rapid chess rules.
The Indian was ousted in the quarter-finals by Vladimir Kramnik of Russia.
At Zurich, however, it will be a different ball game, wherein Anand will get a chance to test himself before the Candidates Tournament in mid-march.
Carlsen has been busy in various promotions since the World Championship triumph. The 23-year-old was on a long tour of the United States, where he gave a simultaneous display against Google employees, a nine-move checkmate to Bill Gates and some lesson to Facebook founder Mark Zuckerberg besides others.
His return to the board might not sound alarming to his competitors, but the form he displayed in the match against Anand makes him a huge favourite for the title in Zurich.
Aronian is fresh from his round-to-spare victory at the Tata steel tournament that finished just a few days back and is considered to be in top form while rising star Caruana has proven himself to be a world beater on his day.
Nakamura had an indifferent Tata Steel tournament and the American will be keen to make amends.
Gelfand, who finished joint-last in the Tata event, too will like to stage some sort of comeback.
The draw of lots will be done through a blitz tournament and the event will complete with a rapid event.