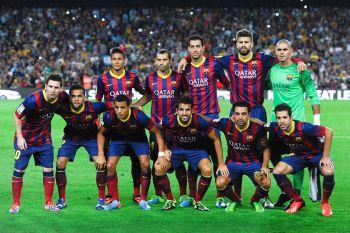 Barcelona's revenue is projected to rise to 509 million euros this season, the Spanish champions said on Tuesday, making the club only the second to cross the half-billion threshold after arch rivals Real Madrid.
Income for the 2013-14 campaign will be boosted by extra cash from sponsorship deals, as well as the sale of Spain midfielder Thiago Alcantara to Bayern Munich, Toni Freixa, a spokesman for the Barca board of directors, told a news conference.
The club were targeting a post-tax profit of 36 million euros, he added.
"This is not a message of triumph, since it is still difficult to manage the club and we have to continue the policy of austerity," Freixa said.
Real and Barca are soccer's richest clubs by income, according to the latest ranking by accounting firm Deloitte published in January.
Real earned more than 500 million euros for a second consecutive season in 2012-13, with revenue rising 1.3 percent to 520.9 million, the club said this month.
They made a net profit of 36.9 million euros, up from 24.2 million the previous campaign.
Freixa added that the construction of a new Nou Camp stadium or the renovation of the existing arena was under review.
Image: Barcelona team
Photograph: David Ramos/Getty Images