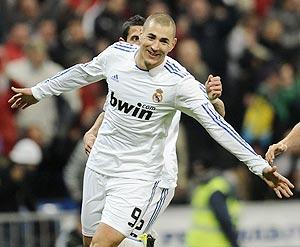 Arsenal boss Arsene Wenger is trying to sign Real Madrid striker Karim Benzema, who is worth 35 million pounds.
The Arsenal boss claims he will be 'extremely active' in the transfer market and confirmed he is targeting the French striker, 23.
Benzema has scored 26 goals in 48 games for Real this season but his relationship with boss Jose Mourinho is frosty, The Sun reports.
Wenger said: "Signing him does not seem impossible. He's a player that I like. He's intelligent in his movement, he is capable of combining well with others and making a difference, and of doing individual moves as well.
"So, for me, he's a player who's at the top level in the world."
Wenger at the same time faces a battle to keep left-back Gael Clichy, who is wanted by Inter Milan and Bayern Munich.