Uzbek billionaire Alisher Usmanov, who is a major shareholder in the Arsenal Football Club, is of the opinion that manager Arsene Wenger needs to be given the financial backing to bring in experienced players to end the club's six-year trophy drought.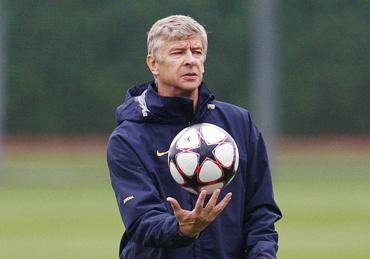 Since lifting the FA Cup in 2005, Wenger's men have lost a Champions League and a Carling Cup final, while never finishing higher than third in the Premier League.
"There is a widely-held view among most commentators - and one that I agree with - that the club needs to stiffen the defensive spine of the team, with a dominant keeper, strong centre-halves and a powerful defensive midfielder in the mould of Claude Makelele," Usmanov told the News of the World.
"The Premier League is one of the most competitive in the world and whilst we have consistently challenged for honours, the club needs to develop talent and buy top-class players to win the trophies we all crave. This requires greater investment which, I believe, has been lacking thus far," he added.
The 57-year-old, who owns almost 30 percent of Arsenal Holdings, also believes that self-interest among the board members is hindering the progress of the club. 
"If the role of a board member is to oversee a trophyless period, while making significant personal profits and asking fans to pay inflation-busting ticket price increases then, no, I would not want to be on the board," Usmanov said.
"If instead it is to try to deliver sustained success, to increase your personal investment in the club, to help develop the commercial position and to ensure the fans have a say in the running of the club then, yes, I think I certainly have something to contribute," he added.
Arsenal will do everything to keep Nasri: Wenger
Meanwhile, Arsenal boss Arsene Wenger has warned Samir Nasri that he is not the finished yet and he needs to stay at the club to become the complete player.
Arsenal midfielder Nasri, with one year left on his current deal, is one of the hottest properties in Europe.
Manchester United, Inter Milan and Bayern Munich are interested in the 25 million pounds-rated player, who is stalling on signing a new deal with the Gunners, The Sun reports.
Wenger said: "We will do everything to keep Nasri at the club. My wish is that he stays here. If he looks back he can see that he's come quite a long way with us, and I think there is still a bit to do. It's the club that makes the player's career."