World No 1 tennis star Roger Federer has reportedly received death threats from an anonymous blogger on a Chinese website Baidu.com.
The blog poster, using the screen name "Blue Cat Polytheistic Religion Founder 07," wrote, "On October 6, I plan to assassinate Federer for the purpose of tennis extermination," AFP reported.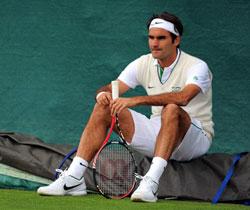 The Baidu user "also posted a doctored photo of a decapitated Federer on his knees on a tennis court with a masked executioner dressed in black and holding an axe next to him.
According to reports, tournament director Yang Yibin addressed the threat to the Shanghai Youth Daily.
"We hope that it was an oral threat only, and the fan won't take substantive action," Yang is quoted as saying.
Federer and his family are in China for the Shanghai Masters tournament.
Photograph: Reuters