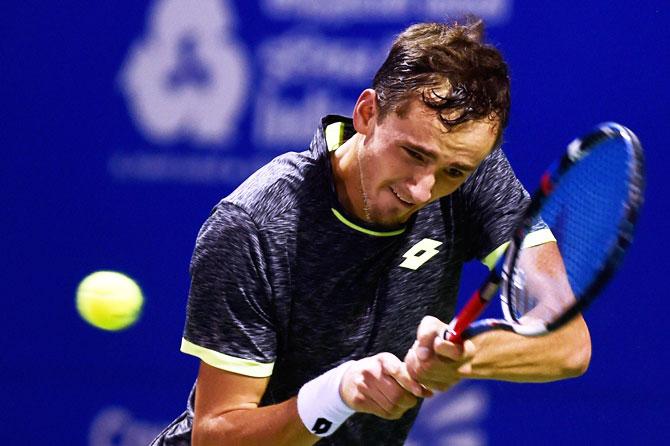 IMAGE: Russia's Daniil Medvedev returns the ball to Israel's Dudi Sela during their semi-final match at ATP Chennai Open in Chennai on Saturday. Photograph: R Senthil Kumar/PTI
Second seed and world number 14 Roberto Bautista Agut outclassed Benoit Paire in a lop-sided semi-final to set up the singles title clash of the ATP Chennai Open with young Daniil Medvedev, who rallied to reach his maiden ATP final, in Chennai on Saturday.
Agut served extremely well to register an easy 6-3, 6-3 win over Paire, who paid the price for his unending unforced errors in the second semi-final.
Agut kept tightening the grip over the match with each game while Paire slid fast.
Agut will now take on Russia's 20-year-old Medvedev for his fifth career title. Medvedev came from behind to beat seasoned Dudi Sela 4-6, 7-6(2), 6-2 in the first match of the day in two hours and six minutes.
The Spaniard had more control over his strokes as he lost only 13 points when he served. Out of those 14 points, four he lost only in one game.
After walking away with the opening set and leading 4-1 in the second he lost his serve to hand Paire little opening for a comeback but recovered quickly to move into the final.
The two players mostly stayed at the baseline even as the Spaniard was more consistent with his service games. It was Paire who first tried to approach the net, looking to change the strategy but was not successful.
But Agut succeeded with the same strategy as he came forward and dropped a volley to earn two breakpoints in the fourth game. He found Paire stuck at the baseline.
However, Paire served an ace to save the first and found a breath-taking backhand winner on the second after a long rally. With consecutive aces, he held the game, denying the Spaniard advantage.
Agut had given away only three points on his serve while Paire's service was always under pressure. A volley which he could have put away, Paire hit on the net to again face breakpoint and hit a forehand wide on the next point to hand Agut first break and a 5-3 lead.
Serving for the set, Agut lost four points, while he had lost only three in the previous four games combined.
Paire continued to struggle with unforced errors and hit a forehand error on set point number three.
Out of frustration, he kicked the water bottles and received a warning from the chair umpire.
There was no end to errors of the Frenchman, winner of a single title on the Tour, and he lost first game of the second set to trail early. A marginal error with a forehand near the baseline put him down by a breakpoint and followed that with a double fault.
Even if Paire managed to put some pressure on Agut, he lacked consistently to get that elusive break. Losing the third game at love pushed Frenchman out of the match. Up 4-1 the Spaniard lost his serve in the sixth game but recovered quickly to close the match in his favour.
Bopanna-Jeevan set up all-Indian final with Raja-Sharan
Rohan Bopanna and Jeevan Nedunchezhiyan set up a block-buster all-Indian final against
Purav Raja and Divij Sharan after edging past fourth seeds Nick Monroe and Artem Sitak in a gripping semi-final at the Chennai Open, on Saturday.
Bopanna and Jeevan eked out a hard-fought 7-6 (3), 6–4 win over the American-Kiwi combination to set up a historic final as never in the past, two Indian teams have clashed in the final of an ATP World Tour event.
A home team is set to take the trophy after five years as the last time an Indian side triumphed here was in 2011 when Leander Paes and Mahesh Bhupathi took the title.
The legendary Lee-Hesh pair won five titles here at the Nugumbakkam stadium.
While the established pair of Sharan and Raja will gun for their third ATP title together, Bopanna and Jeevan are combining only for second time in their career.
"I am happy to see that first time ever two Indian teams will play in the final. It has never happened in the world," Bopanna said.
"We fought hard, it's good to be in final. It does not matter who wins in final, it will be a win for India," he added.