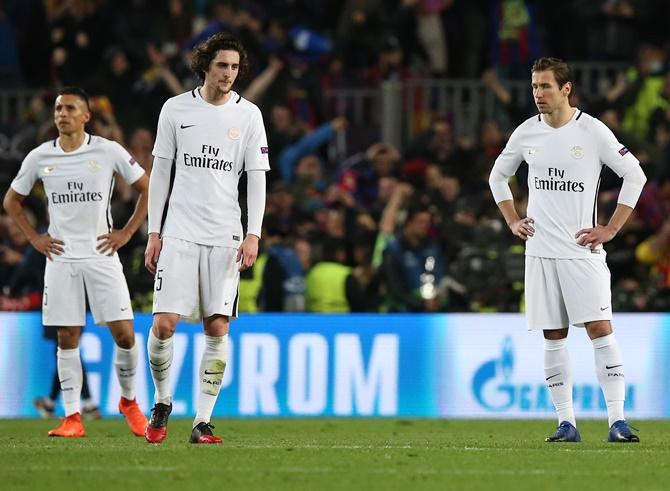 IMAGE: According to the club, the fans verbally insulted the players and vandalised their cars. Photograph: Albert Gea/Reuters
Police have launched an investigation after Paris St Germain's players were confronted by angry supporters upon their return to the French capital on Wednesday following their 6-1 Champions League defeat in Barcelona, the Ligue 1 club has said.
The French champions went into the Round of 16 second leg tie with a 4-0 advantage from the first leg but the Spanish champions scored three goals in the last seven minutes to stage an incredible comeback and win 6-5 on aggregate.
Upon their return to Paris, the club alleges the travelling party were verbally abused and several vehicles damaged at BourgetAirport, while club staff, players and their families had to be escorted from the scene.
"On Wednesday night... the Paris St Germain players were confronted and threatened by several individuals at BourgetAirport," PSG said on its website (www.psg.fr/en).
"These individuals verbally insulted the players before vandalising their cars. Several vehicles were damaged. In this extremely hostile and aggressive climate, all vehicles were escorted to ensure the safe passage of the players, their families and Club staff members. One individual was struck by a car trying to escape the crowd that was physically threatening the players and their families," the statement posted on the club's Twitter page read.
"A police investigation is underway to establish exactly what happened... The Club strongly condemns the actions and behaviour of the individuals in question."
Barcelona became the first team in Champions League history to overturn a four-goal deficit in a knockout tie, with the feat being hailed as the greatest ever comeback in the tournament.
Several PSG players apologised to fans in the wake of the defeat, which club president Nasser al Khelaifi described as a "nightmare".