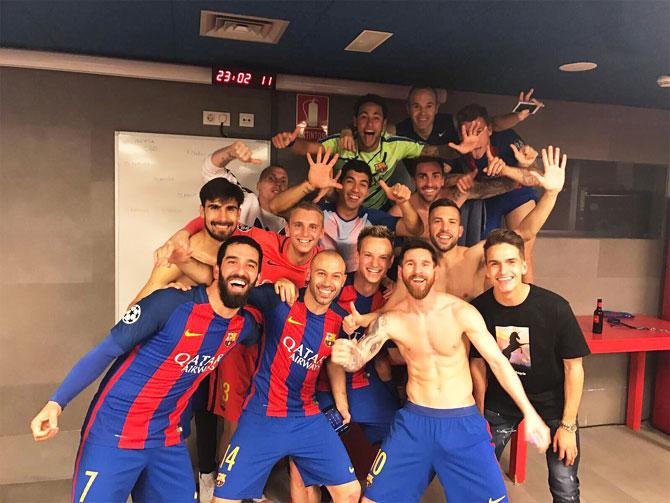 IMAGE: The ecstatic bunch of FC Barcelona players celebrate in the dressing room after their miraculous win on Wednesday. Photograph: FC Barcelona/Twitter
Barcelona's amazing 6-1 victory over Paris St Germain on Wednesday that sent them through to the Champions League quarter-finals will forever stay in the memories of supporters, coach Luis Enrique said.
The Spanish champions, who lost the first leg 4-0 and were facing their earliest exit from the competition since 2007, struck three late goals in six minutes to complete an extraordinary comeback.
"Any child in the Nou Camp tonight will never forget this and neither will the adults. This is a unique sport for crazy people," Luis Enrique told reporters.
"This is a night which is difficult to explain in words, it had the script of a horror film with a spectacular start with an atmosphere which I have never seen in the Nou Camp, with tension I have never seen before."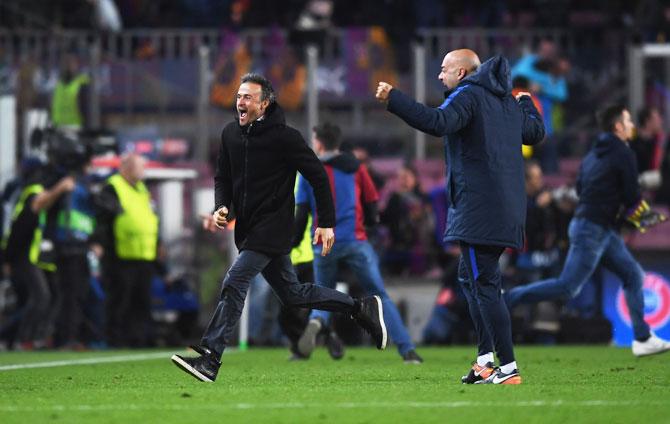 IMAGE: FC Barcelona (left) manager Luis Enrique celebrates as Sergi Roberto scores their sixth and winning goal on Wednesday. Photograph: Michael Regan/Getty Images
No side in 61 years of the European Cup had ever gone through after losing the first leg of a knockout tie by four goals and Luis Enrique paid tribute to the fans who stood by the team after their harrowing defeat at the Parc des Princes.
"I would like to thank everyone who kept their faith after we lost 4-0. This is dedicated to them because this isn't the Harlem Globetrotters, this is football," he said, referring to the famous American exhibition basketball team.
"I don't think anyone stopped believing. We risked everything and it paid off. You get finales like this very occasionally in football and this time it was our turn," Luis Enrique said.
"It was an explosion of sentiment, I'm not an emotional person but I enjoyed this just as much as those that were moved to tears."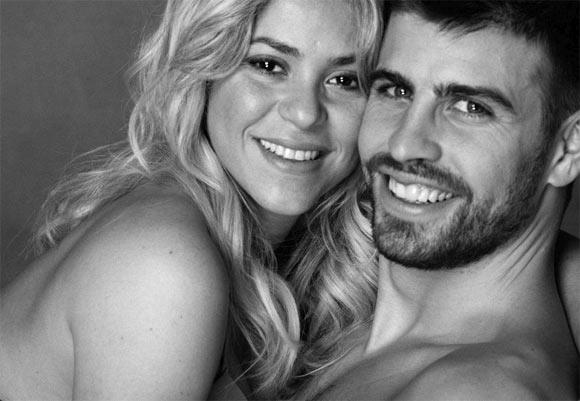 IMAGE: Columbian singer Shakira with beau and FC Barcelona defender Gerard Pique. Pique reckons the win will spur love-making across Barcelona. Photograph: Shakira/Twitter
Barca forward Neymar, who scored twice in the space of three minutes before Sergi Roberto's 95th-minute clincher, said it was the best performance of his career, in which he has won the Champions League and an Olympic gold medal with Brazil.
"It's the best game I've played in my life, because of the whole story, the goals and for what it means to the team," Neymar told BeIN sports.
"It looked like the tie was over after losing in Paris and now we're playing without responsibility, with happiness. The first week after Paris was tough but we rediscovered our football and since the second week we couldn't wait for this game to come around."
Barca defender Gerard Pique, meanwhile, predicted a surge in the birth rate in Catalonia, as occurred in 2009 following Andres Iniesta's stoppage-time leveller against Chelsea which took Barca into the Champions League final.
"I advise the hospitals of Barcelona to start hiring nurses because a lot of love is going to be made tonight," he said.