T Thomas writes that the governments -- central and states -- should, along with the Private sector, work towards supporting and grooming young sporting talent in an effort to increase medals tally at the 2016 Games in Rio.
The Olympics comes around every four years. As was the case this year, it is clear they are one of the most popular and spectacular of international events, bringing together all the countries in the world in a spirit of friendly but fierce competition in almost all sports.
For us it is an occasion to watch teams from other nations perform -- some of them so tiny that one has to search in one's atlas to find them.
Yet, in this great arena, one nation that does not really get represented is our country, India. With a population of a billion-plus people, we have for years been unable to produce athletes and sportspersons who can compete and win in the Olympics.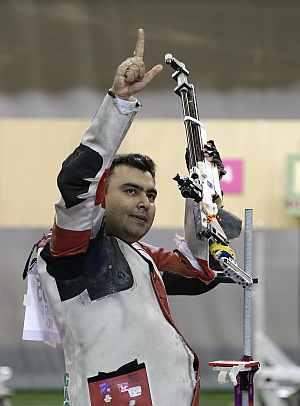 This should be a matter of concern for all of us as Indians. It is not that Indians do not play sports, nor is it that our sportspersons do not enjoy status and some measure of wealth and security in the community at large. Cricketers are probably the most obvious example of this. Yet, with all these positive indicators, we have been unable to find our due place in the Olympics arena.
The reasons for India not being adequately represented at the Olympics are several.
First of all, sports in general is not an attractive career option for most young Indians. This is because one's eminence in any sport is only for a limited period of time, mostly not exceeding ten years. After that period of eminence and some measure of fame and adulation, most sportsmen are largely forgotten.
In contrast, if a person concentrated on a career in business, civil service, or any other option, one's success continues well into one's whole life. In most such careers one's competence and hence value to the employer increases with experience and age, unlike in sports where one's value diminishes rapidly after a certain age, mostly by middle age itself. Perhaps because of the desire of and the need for most Indians to secure their own future and their families, we rightly give priority to careers that ensure continuity and progress as one advances in age, till one is able to retire at 60 or beyond.
The other reason is a lack of adequate facilities at the town / taluka and even the district level in most Indian States. In addition to facilities there have to be well-qualified and motivated trainers for each sport at such facilities. Without such staff, those facilities will be like schools without teachers.
Now let us consider the possible remedial steps that can propel India to a better position in the Olympic arena. The first step is to make sports an attractive career option for young men and women, while they are still in school or college. Inter-school and inter-university athletic meets should be sponsored by each state government by providing the funds required for travel, accommodation of a decent nature, and the daily sustenance of athletes. If the sports event clashes with normal examinations the sportsperson should be given an exemption and allowed to take separate examinations. This will ensure that sportspersons do not suffer academically.
Secondly, in addition to the present practice of giving jobs to sportspersons in public sector undertakings like railways, the government should persuade India's 50 largest companies to provide the same kind of facilities for sportspersons as the public sector does. This will widen the scope for sportspersons to pursue their activities without anxiety about career prospects.
Thirdly, the government should institute a monetary reward scheme for outstanding achievements in sports. For instance, the government could give anybody winning an Olympic gold Rs 5 crore; a winner of a silver medal Rs 3 crore and Rs 1 crore to someone bringing home a bronze medal. These can be given as investments in government bonds, so that the money is not frittered away.
Fourthly, since a sportsman's active life in sports can be limited, he should be given a life-long pension, equivalent to that of an IAS retired officer, with a half-pension for his widow and concessional education for his children.
Lastly, each sports minister at the Centre and in each state government should be given by the cabinet at the Centre or the state, certain targets to be achieved. They should asses the minister's performance against these targets every year, and he or she should be held accountable by the legislature. This will help motivate the ministers and their officials to be much more proactive in achieving results, especially if the whole comparison of actual achievements verses targets is open to public scrutiny and publicity.
To ensure continuity in tenure of individuals, a person should be appointed sports minister only if he is willing to handle that portfolio for at least three years even if he is given other additional responsibilities in the cabinet.
To set all these changes in motion, perhaps our Central sports minister and the prime minister should take the initiative to call a meeting of all sports ministers from the states as early as possible, and initiate a campaign for medals in 2016 Olympics in Brazil.
If adequate support and interest is taken by the PM and his colleagues, we can break our barren record at the Rio Olympics. This would be yet another indication that India is on the move.
The writer, a former chairman of Hindustan Lever, heads the Indus Venture Capital Fund.
Photograph: Rebecca Blackwell / AP