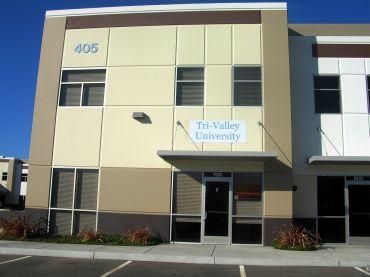 Ritu Jha speaks to some Indian students who have been at the receiving end of the Tri-Valley University scam in the United States.
Read Part 1: Tri-Valley students: Trapped in education scam
Raj Sri*, 24, came to the United States in September 2010 to study business management at the Tri-Valley University in Pleasanton, California. At 7:30 am, January 20, the Department of Homeland Security's Immigration and Customs Enforcement officers took him to San Francisco and installed the Intensive Supervision Appearance Program on his right leg.
"They (the officials) told me I am illegal since September 2010, the day I entered this country," Sri told India Abroad. "How could this be true? I entered legally on an F-1 visa, and got security clearance. I am not illegal. ISAP is used on murderers! I have committed no crime."
Sri said he and his roommate were asked 114 questions. The officials checked his papers, kept his passport and then strapped both of them with the ankle bracelet.
"Now we charge its battery three times a day and cannot move 60 miles from the area," said Sri. "I feel insulted. I was attending my classes and I wasn't even working anywhere. Who put us out of status?"
Sri's friend, who joined the university in 2009, said, "It's a lifetime's humiliation. I wanted to have a degree from the US -- it gives you a feeling of self-satisfaction."
Hundreds of boys and girls like Sri -- mostly from Andhra Pradesh -- are roaming from college to college, begging for admission since the university has been shut down, calling immigration attorneys across America hoping to find a solution, said Ashok Kolla, chair, student committee, Telugu Association of North America.
"It's the first time I cried in the US," said Kolla. "This is sad. One student was arrested in Ohio. He said many students chose to study at the Tri-Valley University because the admission was easy."
There were 4,500 students enrolled at the Tri-Valley University, said Kolla. "The fee was low as compared to any other college and, most important, it was providing Curricular Practical Training and flexibility."
CPT is employment that is part of the students' curriculum and can be used only before the students earn their degree. It may include internship, cooperative education, or any other type of required form of on-the-job training the school permits as part of deals with sponsoring employers.
A friend of Kolla's who was also a student at the Tri-Valley University, said, "If any college provides CPT, why would students not use that facility? Our parents have sponsored us and have spent millions on us."
Kolla asked why ICE allowed students to come to the US if it knew the school was not accredited, adding: "Now they are going to spoil their career."
Attorney Sheela Murthy, founder of the Baltimore, Maryland-based Murthy Law Firm, said all of the last weekend she was talking to students.
"I am getting calls from students getting deportation notices," she told India Abroad. "I do not have the number (of calls) but there are a lot. There is a lot going on. It was in a sort of gray-area limbo. The whole thing looks like some pyramid scheme. Some of them are innocent and some are not, especially one who kept working continuously on the CPT."
Murthy said some Tri-Valley students might have known the kind of work they were doing is not legally permitted. If you have used one year of CPT, then you cannot use your Optional Practical Training, which you get after you graduate. The CPT also usually allows maximum 20 hours of work.
OPT is off-campus employment a student on an F-1 visa can take up usually for a year, and a student on an M-1 visa (vocational or non-academic studies) for six months. F-1 students specialising in certain areas of science, technology, engineering or mathematics can extend their OPT for 17 months for a total of 29 months of employment.
"It could be a scam -- maybe some people got to the US to just work and not to study," said Murthy, adding that some students might be innocent but many probably knew the school was shady.
"I am not sure how much class they were attending," said Murthy. "One of the teachers e-mailed me, saying, 'I was teaching legitimate students. I wasn't wasting time.'"
Murthy continued, "Does both -- gives you student visas and also does deportation. They keep students' records under the Student and Exchange Visitor Program -- the database of all university students enrolled. So, when ICE officials look in that database, they look at which students are valid, are they taking class or not, what's going on. If you stop attending classes and miss classes, not maintaining grades, they update their serial record."
Innocent students who were not aware of the system should opt to leave the country voluntarily, Murthy advised. "Because to fight deportation it will cost $10,000 (about Rs 4,58,000) to $30,000 (about Rs 13,75,000). Plus, there is no guarantee you will win."
It seemed, she added, that the officials "were aware of the problem. Then it is unfair that the students have been penalised in many cases. They had no idea, they have used their parents' money and have come to this great land and trusted the US government would not betray them."
Prakash Khatri, the first-ever ombudsman, US Citizenship and Immigration Services, told India Abroad: "The Department of Homeland Security -- my former employer -- seems to be confusing the situation by issuing contradictory signals about the status of Tri-Valley."
Khatri now runs the Khatri Law Firm in Washington, DC, and is the president and chief executive officer, KPK Global Solutions -- primarily focused on reforming immigration policy. He said two days after the raids at Tri-Valley, "ICE issued an updated list of schools certified to participate in the Student and Exchange Visitor Program. And Tri-Valley was still on the list!"
Of greater concern, he added, was the status of the Tri-Valley students.
"If Tri-Valley is in fact an illegal visa mill," he said, "then there is a potential that these students were duped into paying their 'fees' and coming to the US under the assumption that this was a legitimate university. Under this scenario, these students would have discovered upon their arrival that there was no educational program, and many of them -- far from home and lacking housing or any type of support -- would have been forced to work to earn a living, a violation of their student visa status. Thus, there is a distinct possibility that many of these students, working in violation of their visa status and trapped in a situation not of their own making, could be considered victims of human trafficking. Before ICE moves to remove these students from this country, an investigation needs to be launched to determine if any of these students were, indeed, the victims of human trafficking."
Image: The Tri-Valley University building in Pleasanton, California