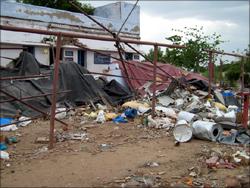 A Ganesh Nadar visits the site of the firecracker tragedy in Tamil Nadu and finds that little has changed despite such tragedies happening regularly
Mudalipatti village in Virudhunagar district of Tamil Nadu, where 39 people died and over 50 were injured in a fire that broke out in the Om Shakti fireworks factory earlier this month, would have made headlines anywhere in the world.
Here, though, no one was surprised; these things happen regularly; it's our fate say locals.
The nearby town of Sivakasi is the firecracker capital of the country. It's the second largest manufacturer of crackers in the world after a city in China. In fact, one enterprising cracker manufacturer in Sivakasi has a manufacturing unit in China. Standard Fireworks put up a factory there when they realised that China was beating them by undercutting prices.
None of the roads to Mudalipatti is motorable. There are more potholes than one can count. A Kathir, who works for a human rights NGO called Evidence, says, "The fireworks owners encourage panchayat presidents to keep the roads in bad shape. The worse the roads the fewer the visits from officials is their mantra."
What is usual about the Om Shakti fire of September 5 is that only four workers of this factory were killed; the rest were all bystanders who had come to watch.
Sreenivasan, an old man employed by the factory as a watchman, says he has not been paid for the last 20 days. "I am staying on as I have worked here for 15 years. My boss is in jail. If I too go away, locals will strip this place bare," he says, showing surprising loyalty for an employer who has not showed particular concern for the safety of his staff.  
On the right side of the factory gate is a huge godown, once packed with chemicals. Sreenivasan points to an empty space 200 feet away.
"There were 60 rooms starting from there. All of them exploded and were reduced to rubble. People were standing here and watching when the chemicals in this godown caught fire and exploded. The flying roof tiles, cement and bricks killed most of them."
When we asked him about more deaths among observers than workers, he explained, "Normally there are 220 workers here. That day there was a marriage of one of the workers and so only 100 turned up to work. When the fire started, 96 managed to run out. Seeing them running away, local villagers started coming here. They came to loot and plunder from dead bodies and also finished goods."
He was adamant that no one came to help; they only came to rob. Only one man died from Mudalipatti village, the rest were from neighbouring villages.
One of the bystanders charred to death was 31-year-old Balakumar.  
"When he did not come back, we got worried. We went there and found his bike parked there. I knew something was wrong as my son would never leave without his beloved bike. We found his body. He had gone there to help and came back dead," wept his old mother.
His young widow also insists Balakumar was trying to help. "He always rushed whenever there is a fire. He likes to help," she said.
Her two sons aged seven and five were sleeping as we talked. What was the family planning to do now? The answer was fatalistic and predictable in a place where there is almost no other means of employment.
"We will go back to work in the fireworks factory. We don't know what else to do. There is no agricultural work as there is no water and the calendar companies (printing of calendars is another major occupation here) pay half the wages of the firework units," said the widow.
"Life is like sugar cane. The owners take all the juice and give us the fodder to eat," said the mother, "But we have learned to survive with that."
Another fireworks worker added, "We get bonus twice a year, during Diwali and Pongal, and if there is a marriage in the family our owners give us Rs 1 lakh or at least Rs 50,000."
No one had heard of Provident Fund, mediclaim, house rent allowance or travel allowance.
The state government gave the families of the deceased Rs 2 lakh each and the central government another Rs 2 lakh. The local cement factory gave Rs 25,000 and a politician, Rs 10,000. Those with minor injuries got Rs 25,000 and those with serious injuries, Rs 50,000.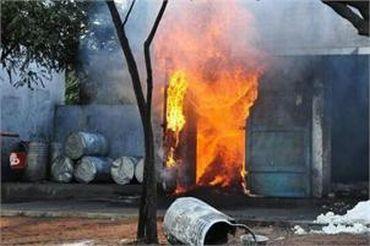 The revenue divisional office in Sivakasi was buzzing with activity. Teams were being formed and setting off in different directions. Their purpose was to check fire cracker factories for safety violations. A little like bolting the stable door after the horse has fled.
Revenue divisional officer S G Rangan said, "There are 689 registered fireworks units in this district. We are going to check each one for safety evaluation. There are 11 teams in this Sivakasi division. Each team has officials from six departments -- explosives, revenue, inspector of factories, health, police and fire."
Elaborating on the checking mechanism, he said, "The explosives department official will check the quantity and quality of chemicals, the revenue official will check the quantity of sulphur, the inspector of factories and health department will check the welfare of workers, the fire service will check if their rules are being followed, the police go along to makes sure no one interferes with the team."
He says so far the licences of 30 companies have been suspended "and today I am closing down a further 15."
When we pointed out that no ambulance, fire engine or police vehicle could reach any factory here because of the atrocious roads, he said, "The collector has passed orders and cleared the funds for immediate laying of roads."
And what about the lack of ambulances, fire services and police stations in the area?
 "Sivaksi general hospital has a burns ward. It has recently been upgraded at a cost of Rs 4.5 crore. All facilities are available here. They have to come here. It's not possible to be treated for burns at the primary health centres," Rangan said.
Of the 689 fireworks factories in the district, 500 are in Sivakasi division and the rest are in Aruppokottai division. The Mudalipatti tragedy occurred in the Arupokottai division.
This year so far 49 people have died in fires that broke out in firecracker manufacturing units and 88 have been injured.
Government records show that in the last decade there have been a mind-boggling 178 similar fire incidents in Sivakasi. They have caused 240 deaths and 171 have been injured. The human rights NGO, Evidence, based in Madurai, cites a much higher figure: in the last seven years, 545 people have been killed in fire incidents.
A Kathir, the founder of Evidence, told rediff.com, "The factory had permission for 35 buildings but there were 55 buildings. It was allowed 120 workers but 300 were working there. Among them only 50 are covered under ESI."
The fire officer of Sivakasi, S Shunmugaraju, was just back from an inspection. He told rediff.com, "We make sure that there are buckets filled with sand, fire extinguishers, that there is no grass within 10 feet of the factory, plenty of water is available and there are gaps between every building.
"Usually our norms are well followed. It's the quantity of chemicals that gets them into trouble. They are always over stocked."
Sivakasi is still governed at the local level by a town panchayat. It should be given the status of a city with a municipal corporation and the infrastructure upgrading that comes with it.
There is more money in Sivakasi than in most state capitals. Sivakasi pays more taxes than many states in the country. That money should be put to use to benefit the local people.
Better roads, water and power supply, more schools and colleges are essential. The money is there but not good intentions. In Sivakasi, we came to realise, there is only greed for more and more money by the few and if hundreds of people die in the bargain, it's sheer bad luck for them, or as Tamilians say, it is vidhi (fate).
The Sivakasi fire brigade answers 125 distress calls a month. Which means four calls a day, or one call every six hours. Fire officer Shunmugaraju says, "There are no accidents in the monsoon. Also, from Diwali to Pongal the majority of cracker factories are closed."
Thank god for small mercies, because neither the administration nor the employers seems inclined to show any.
Images: (Top) The killer godown of Omshakti Fireworks, Mudalipatti; (Above) The fire blazing away earlier this month