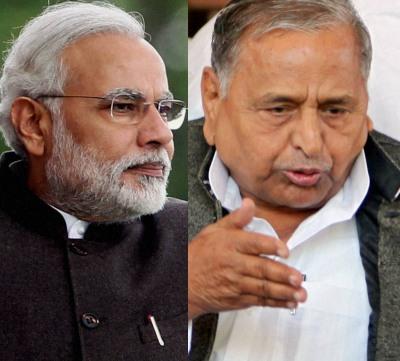 The Varanasi versus Azamgarh story is about the fears and insecurities of two of our strongest leaders, Narendra Modi and Mulayam Singh Yadav, says Sheela Bhatt after travelling through the two cities.
Narendra Modi's choice of Varanasi to enter the Lok Sabha has triggered a riot of imagination in the people of this temple city.
Similarly, Mulayam Singh Yadav's decision to contest from Azamgarh, 90 km from Varanasi, has upset the equations of the Bahujan Samaj Party and the Bharatiya Janata Party in many constituencies like Ballia, Mau, Gazipur, Lalganj and Bansgaon, which fall in the vicinity of Azamgarh.
The political messages from the BJP and Samajwadi Party's battles in Varanasi and Azamgarh, respectively, are quite obvious. The Samajwadi Party is looking for Muslim polarisation in its favour while the BJP wants Hindu polarisation so that their respective leaders can safely go to the Lok Sabha.
In the Varanasi versus Azamgarh story lies the same old communal-secular politics. This time, it will directly impact the central government formation, so it is murkier.
BJP leaders in Uttar Pradesh calculate that if their party loses heavily in the Bhojpuri-speaking Purvanchal region bordering Bihar, then the party will get around 30 to 35 seats in UP. But if the Modi wave touches Purvanchal, then the BJP will cross 40 seats.
The BJP is confident of getting the maximum number of seats in Jat-dominated western UP, but Purvanchal is its weak link.
It is not the Congress or BSP but the Samajwadi Party that is challenging head on Modi's dreams in the battlefield of Purvanchal. Mulayam Singh's decision to fight from Azamgarh is a masterstroke. The announcement itself has helped pacify Muslims there.
The Samajwadi Party and BJP are both going by the script that was predicted for the last two years. The 2014 election thus sees a no-holds-barred fight where musclemen and criminal candidates are status symbols once again.
There is no fresh air of democratic traditions here. There is a complete disregard to implement a new value system by giving tickets to clean candidates. Neither Modi, nor the Congress or the Samajwadi Party, have made a sincere attempt to do so.
Modi is a fresh entrant to UP politics, but he is surrendering completely to the state's political culture where, this time round, the same old fixers and builders, thekedars (contractors) and bahubalis (political strongmen) and fly-by-night operators circle the biggies and their election managers.
Since the Congress has not declared its candidate at the time of writing this column, Modi's supporters are having a dream run in Varanasi. There is a Modi wave in Varanasi. Even if you ask a simple question like, 'Will Modi win?' -- Kesrinath the chatwala, Rakesh Tiwari the taxi driver or Sujay Gupta the shopkeeper will speak to journalists for some 30 minutes.
The public perception around Modi is such that it is as if someone is coming to the magnificent ruins to rebuild a Hindu city. Whatever the pink newspapers write and television debates churn out on the much-maligned Gujarat model, it is sold here and people have bought it.
Most people Rediff.com spoke to start speaking about civic issues and then end up saying, "Modiji aayenge toh Varanasi ki pehchan phir se banegi na? (If Modi gets elected Varanasi will again become famous, no?). The city's Muslims are silent. Many Brahmins are sulking, for Modi has hurt too many Brahmins like Murli Manohar Joshi, Karuna Shukla, Harin Pathak and Kalraj Mishra, they argue.
After the distribution of tickets for UP's Lok Sabha seats Modi's confidant Amit Shah is facing flak. There are murmurs among Brahmins in Varanasi that "Brahmano main gahra chintan ho raha hai (there is deep introspection going on among Brahmins) over what is the BJP up to."
Since Navratras are on, there are many cultural events taking place. The Modi wave is influencing debates, satire, mushairas, talk in college canteens and even Islamic centres of learning. The wave is expected to subside once the Congress decides on its candidate.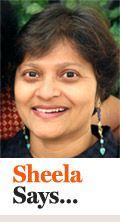 Pandit Rajen Sharma (name changed) is a distinguished resident of Varanasi. When Malala Yusufzai was shot by the Taliban in Pakistan he had performed puja for her at the Kashi Vishwanath Temple. When the Shankaracharya of Kanchi was arrested by the police under the instructions of Tamil Nadu Chief Minister J Jayalalithaa in November 2004 he had cried silently and prayed endlessly till her government lost the next election.
Now, panditji prays every day before the Shivling at the Kashi Vishwanath temple that Modi must lose from Varanasi.
For the last 40 years, like hundreds of other fellow residents, he does puja every day at the temple which is a stone's throw from his home. Imagine how strong Modi's 'brand-building' is when the panditji told Rediff.com, "Modi can't lose. I know my prayer may not be heard. I will concede humbly after his victory. I will console myself saying it was Shivji's wish."
Panditji is a committed Congressman and thinks Rahul Gandhi is above Brahmins.
Panditji's followers think he has divine powers. Many of them are Gujarati, and Modi bhakts. They are cajoling him to bless Modi, but that is not going to happen.
In Varanasi, the issue of getting blessings and giving blessings is supreme. Here a man with a Rs 3 billion business is of no consequence but if someone is believed to have divine shakti, then he is God-like. "Blessing" is sacrosanct and non-negotiable in Varanasi, says Abhay Tripathi.
The BJP is all set for carpet-bombing Purvanchal. In Varanasi, the political class is waiting for the Congress candidate, and the BJP is using this precious time to get Modi's campaign rolling.
Arvind Kejriwal is respected but in Varanasi ask the right question: Has he got the blessings? If the Congress candidate is very weak or faceless, then Kejriwal will get the Muslim votes and that of the youth who are enamoured by his Aam Aadmi Party.
What remains for Modi's campaign managers is to ensure a respectable victory margin. If the Congress has the guts to bring in a heavyweight who can measure up to Modi's stature, then Muslims will be happy to side with the Congress.
Mufti Abdul Batin Nomani, the mufti of Varanasi who is highly active at social events, says, "The Congress should give the ticket to some game-changer."
Pit Modi's strong position in Varanasi against Mulayam Singh's stature in Azamgarh and you will realise that the BJP's master plan of winning 45 plus seats in Uttar Pradesh has received a severe jolt.
In Azamgarh, Rediff.com spoke to Dr Ahmed Naeem, who teaches at a prestigious local college. "We were angry with the Samajwadi Party after the Muzaffarnagar riots. But now we will turn to Mulayam. He will win from Azamgarh. Before he came along the BSP's candidate was on a winning track but Netaji (as Mulayam is known) will surely win."
Azamgarh and Varanasi both acutely lack civic facilities. The roads of Azamgarh are a shame. There is garbage all over the city, flies and mosquitoes are ever present and cobwebs on government buildings give both cities a pathetic look. The governance lacks dynamism and it shows in every nook and corner of both cities.
Rediff.com interviewed more than a dozen people in Varanasi and Azamgarh. The common talk of Muslims in Azamgarh and Hindus in Varanasi was -- let powerful leaders represent our city. They will bring more funds to make both important cities liveable.
Sharat Pradhan, Rediff.com's special contributing correspondent in Lucknow, said succinctly, "The more you attempt change, the more things remain the same. Modi is the embodiment of Hindu emotions. By selecting Varanasi, he consolidated his image. Mulayam has been losing Muslim votes fast after the Muzaffarnagar riots. By selecting Azamgarh, he has sent a signal to Muslims that he remains their pied piper."
The Varanasi versus Azamgarh story thus is about the fears and insecurities of two of our strongest leaders.
Is Uttar Pradesh moving towards polarisation of Hindu and Muslim votes?
Check out Sheela Bhatt's fascinating columns on Election 2014
Check out Poll Gupshup here