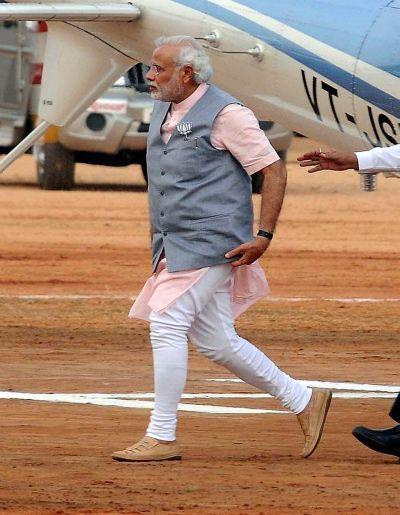 'If 17-year-old Modi wanted to get out of the marriage, which was imposed on him by a socially backward society and his family, it's not only ethical but his right to walk out of the forced marriage.'
'Jashodaben, a highly conservative woman who understandably, by the social standards of India of the 1960s, opted to remain confined to the marriage instead of kicking Modi out from her life for not starting the marriage in the real sense.'
'In spite of media pressure, if she does not speak against Modi, it suggests that Modi has not ill-treated her or exploited her after parting ways.'
Rediff.com's Sheela Bhatt speaks to people in the know about the controversy over Narendra Modi's marriage.
A political storm has erupted over Narendra Modi's too-late-in-the-day public acceptance that he is married to Jashodaben.
While he had never denied his marriage, he had always hidden it or maintained a stoic silence over it.
The Congress's Digvijaya Singh and the party's pan-India machinery, women activists ranged against Modi, and all his staunch opponents have attacked Modi over this.
This round, it seems, will go to Modi.
"The self-confessed strong man doesn't deserve any sympathy for inviting attacks, personal or political, but the facts of Modi's child marriage is more of a tragedy than a scandal that his critics are portraying," says Vikram Vakil, a Surat-based senior journalist who first scooped Modi's marriage way back in 1993 for the Gujarati political weekly Abhiyaan I had founded.
Here is a defence of Modi that an apolitical friend, based in Ahmedabad, offered to Rediff.com after the controversy erupted. He refused to be named in this column, and says he came to know about the marriage in 2003.
"By liberal standards, all individuals are free to have their own choice of partner. The family, parents or society can't impose their choice on a teenage son or daughter as it happened in the Modi-Jashodaben case," this friend of Modi says.
"If 17-year-old Modi wanted to get out of the marriage, which was imposed on him by a socially backward society and his family, it's not only ethical but his right to walk out of the forced marriage. Feminists are against the obnoxious old idea of pativrata nari. In hitting out at Modi, they will be wary of endorsing Jashodaben's stand too," argues Modi's friend from Ahmedabad.
Vakil, otherwise a staunch critic of Modi, defends him on this count. "Modi's marriage was an accident of destiny. It was a kind of a Shakespearean tragedy where neither the man nor woman can be blamed. Both can be judged as right or wrong. It depends on what is your premise to judge him and her. The external factor worked against them when their lives were not in their hands."
Vakil, in 1993, secured the first interview with Jashodaben.
"Then, she had expressed her one-way devotion to Modi and even her stubborn and highly orthodox streak," remembers Vakil.
She told Vakil that she would not agree to a divorce. In the early 1990s, she said, when she heard on the radio that Modi had been sacked as the BJP's general secretary, she went on a fast and consumed only water for six days to pray for him.
Once she even got to see Modi for a few seconds, says Vakil. "She had gone to Maninagar in Ahmedabad, when she saw Modi going by on a two-wheeler. She immediately left his path so as to not embarrass him."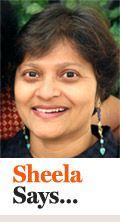 Those who know Modi in Gujarat, says Vakil, have argued for many years that he never maintained any relations with his wife, with whom he did not have a conventional married life.
Jashodaben has also confessed that she never had any relations with her husband. "So what's the fuss all about?" asks Vakil.
When the story revealing Modi's marital status was published in 1993, Vakil recalls he received flak from the Rashtriya Swayamsevak Sangh and Vishwa Hindu Parishad leaders based in Gujarat. The RSS has known of Modi's martial status all along, Vakil insists.
Modi never had any loving relationship with his wife. It was not a case of him 'abandoning' a marriage, which did not exist in real life. Modi, on his part, never confined Jashodaben to the marriage, says his friend of many decades in Ahmedabad.
Jashodaben, a highly conservative woman who understandably, by the social standards of India of the 1960s, opted to remain confined to the marriage instead of kicking Modi out from her life for not starting the marriage in the real sense.
She could have got a divorce and married again, at a later stage, when Indian society was changing and urbanisation had impacted social values. In spite of media pressure, if she does not speak against Modi, it suggests that Modi has not ill-treated her or exploited her after parting ways, says Modi's Gujarati friend.
"Any criteria you apply -- orthodox or liberal -- in this particular case, Modi will win the round only because in matters of love we Indians know ishq par zor nahi (love brooks no pressure)," he says, summing up the predicament of his friend who wants to become prime minister.
"The option of divorce she always had before her, but she wanted to remain devoted to Modi. It was a one way relationship that she opted for. Even when she became economically independent, she preferred to remain alone but married nominally," says Vakil. "I think we should respect Jashodaben for the choice of life she has chosen to live, and we must see reason in Modi's stand."
Anticipating that this issue would create an uproar, Rediff.com had spoken to Kalindi Randeri some time ago, to understand Modi's marriage.
In 2009, M V Kamath and Kalindi Randeri co-authored a book titled Narendra Modi: The Architect of a Modern State when Modi was struggling to get rid of the stigma of the 2002 anti-Muslim riots on his watch.
As Modi has taken centre-stage in national politics, the book was repackaged with a new title and a revised version was published as The Man of the Moment: Narendra Modi.
Kamath and Randeri had been sympathetic to Modi much before writing the book. In a rare event, Modi had initially agreed to cooperate with the authors. Later, he distanced himself from the book without giving any reason.
Kamath, the former editor of The Illustrated Weekly of India, once Asia's oldest English magazine, and a well-respected commentator, is known for his saffron views.
Randeri, who started her career as a social worker in a nursery school, reached the top as the founder of educational institutions, including the SNDT Women's University which opened new horizons for polytechnic education for women in India. Currently, the Mumbai-based Randeri runs a Web site, Ultimate Indian Names.
Those who have read the book found it largely one-sided and too defensive of Modi's actions during the 2002 riots.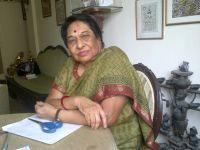 In the first part of an exclusive interview with Rediff.com, Dr Randeri, left, explains the personal side of Modi.
While writing the book, did you talk to Modi about his marriage?
Modi is a very frank person. He didn't even try to dodge it. He wanted us to write about it in our book. When we asked him about his marriage, he said, with a smile, "It's better you talk about this to my elder brother, Sombhai."
So, we talked to Sombhai about it. He was also very frank and gave us the details that we wanted. In fact, I asked him, 'Do you have his kundali (astrological chart)?' He said he did not have it. I then got from him Modi's time of birth and birthplace.
The whole family was very frank. His mother also talks very frankly about the marriage.
Did Modi and Jashodaben ever lead a normal life?
Never. Never. This is how exactly it happened.
They got married one night. The family came back home with Modi. The baraat (bridegroom's party) had gone in a bullock cart, and everybody came back. The girl remained with her parents. They were young, the girl was younger than Modi. Modi was hardly 17 years old.
Modi has never seen her after that day. He left Vadnagar soon after the marriage. He had never shown any interest in the marriage, the relationship reached a dead end.
Somewhere I had read that the woman (Jashodaben) said she has not seen him for years. But she has decided not to marry again and this is her wish. And she doesn't expect anything from him.
Is Modi close to his family?
There is no discordant note within, but he is not close to them only because he left his family at the age of 17, 18. After that, he never ever got involved with them, nor met them socially unless they met accidentally.
In fact, the other day, I heard him say on TV that since 35 years he had not met any of his family members so he decided to meet them.
What we like is -- and we must give credit to his family also -- that they have never tried to impose themselves on him. That's called sanskar (culture).
Okay, you might be a big man, but that doesn't mean we have to follow you or even flaunt our connection.
This is something you observe when you meet his mother. She is transparent and she is so sure of the values that she has given him.
She told us that after he became chief minister he came to her for charansparsh (touch her feet) to seek her blessings. Mother Heeraben told him only one thing: 'I have to tell you, never take bribes.'
When we asked her, 'Don't you want to go and stay with him in the chief minister's bungalow?' She said, 'Me? Why should I go? I'll go mad.' She said, 'Mad'. She only speaks Gujarati. She said, 'What am I going to do there? He will be busy all day.'
When I asked Narendrabhai -- it was really audacious on my part -- 'Can I see your bedroom?' He said okay. He directed me inside his house. There was nothing in his bedroom, except pictures and idols of Saraswati, Vivekananda and Shiva and just one bed.
Image: Narendra Modi. Photograph: PTI Photo.
Part 2 of the interview: 'Is Modi a good actor, or is he really so genuine?'