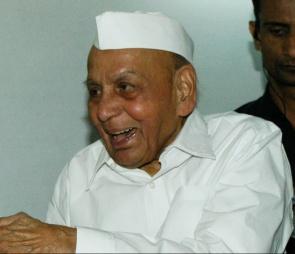 Senior freedom fighter, social worker and former Union minister Dr Mohan Dharia passed away in Pune on Monday morning. He was 88. Dharia was a close associate of former Prime Minister Chandra Shekhar and was among the Young Turks of the Congress during the late 60s.
The man who defied Indira Gandhi
Dharia was suffering from a kidney ailment for last few months. He was admitted at the Poona Hospital after complaining of breathing problem. While undergoing dialysis in the hospital, Dharia's blood pressure dipped suddenly and he was shifted to the ICU. He breathed his last on Monday morning.
A socialist leader until the last moment of his life, Dharia was known as 'Anna' to everybody. After leaving active politics, he travelled all over the Maharashtra for his campaign for tree plantation through his organisation Vanrai. He carried tree plantations in over 300 villages through this organisation.
Born on February 14, 1925, Dharia participated in the freedom movement at the age of 17. With his colleagues, he organised people's army and liberated the Janjira state in Maharashtra in 1948, where he was the foreign minister of the provisional government. He also led trade unions of postmen, state transport, bank, defense, Hindustan Antibiotics and other employees, and was the founder president of the National Labour Centre of India.
He was elected to the Lok Sabha from the Pune constituency in 1971. Dharia was the minister of state for planning, works, housing, and urban development during 1971-75. He was among the leaders who raised voice against the Emergency imposed by former Prime Minister Indira Gandhi.
He was the only minister to oppose and resign on this issue and had to go behind bars for 16-17 months for the survival of democracy in India.
He had also worked also as the deputy chairman of the planning commission when the Late Chandrashekhar became prime minister in 1991. He was conferred the Padma Vibhushan by the Indian government. He also worked with many non-governmental organisations and received an international award for the propagation of Hindi.