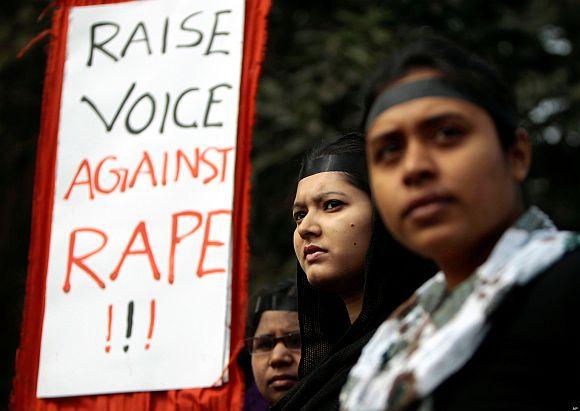 Four men allegedly raped a woman inside a tempo, gorged out her eyes and beat her before throwing the victim out of the vehicle leading to her death in upper Assam's Lakhimpur district, sparking outrage from locals.
The incident took place on Friday when the woman had boarded a shared tempo to pick up her six-year-old daughter from school at Boginadi area, about 14 km from the district headquarters town Lakhimpur, police sources said.
The woman was allegedly raped by the four men inside the tempo before they gorged out her eyes, injured her on the head and neck, they said.
The locals saw the accused throwing the injured woman out of the tempo, about 50 metres away from the Boginadi police station on the National Highway following which they informed the police. She was admitted to a local hospital.
The woman was later taken to the Gauhati Medical College Hospital where she succumbed to her wounds on Sunday.
Women's organisations and locals blocked the National Highway 52 on Monday with her body and condemned the incident, demanding justice for the woman and arrest of the culprits.
On the district administration officials assuring them to nab the culprits, the protesters withdrew their blockade on the road, which had disrupted traffic movement to and from Arunachal Pradesh for about two hours. Meanwhile, the police have picked up two persons for questioning in this connection.

Image: A protest against increasing rape cases in New Delhi