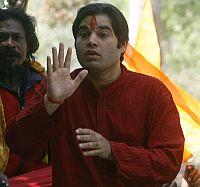 Bharatiya Janata Party national general secretary Varun Gandhi on Thursday threw the gauntlet at his cousin Rahul Gandhi by challenging him on the latter's home turf in Sultanpur.
Besides doing his best to strike an emotional chord with the people of Sultanpur in the name of his father, late Sanjay Gandhi who was the first of the Gandhis to contest from Amethi (now Rahul's constituency), Varun also did not hesitate to use a recent tragedy in his home to invoke sympathy of the local electorate.
"It is home-coming for me; you would remember how you all gave your hand to my father when he extended his hand towards you," he said, while adding amidst cheers, "from now on your pain is going to be my pain because you reside in my heart."
In the same vein, he went on to add, "Barely a month back, I was blessed with a daughter, who passed away in two days; it naturally made me very sad. But on my way here today I saw so many kids around. I realized that God may not have given me my own kid, but the kids of Sultanpur are my children."
He even went to the extent of assuring, "You are all free to come and see me any time you wish to."
While making it clearly evident that he would contest the next Lok Sabha election from Sultanpur -- regarded as the bastion of the Gandhi family -- Varun did not hesitate to align with a local history-sheeter and former Bahujan Samaj Party MLA Chandrabhadra Singh alias Sonu Singh, who was inducted into the BJP barely 24 hours ago.
Significantly, even as Varun was reported to have kept away from Wednesday's event at the state BJP headquarters where Sonu Singh was formally ushered into the party he had no reservations about the history-sheeter's presence on the dais at Sultanpur on Thursday.
Insiders said that Varun agreed to be seen in Sonu's company after BJP chief Rajnath Singh called him up to remind him about how useful the history-sheeter would prove in his battle with the Congress Gandhis.
Among the several criminal charges pending against Sonu are two murder cases.

A party hopper, like most outlaw-turned-politicians, Sonu was elected from Isauli assembly seat in Sultanpur district on a Samajwadi Party ticket in 2007.

He, however, switched loyalties to the Bahujan Samaj Party in 2009 following which he had to quit his assembly membership. But he managed to get elected on a BSP ticket in the by-election that followed in 2010.

However when he was denied a BSP ticket in 2012, he contested as a Peace Party nominee but ended up losing.
Even as Sonu was not given a chance to speak on the dais, he made it a point to declare before media persons, "Aane wale Parliament chunav mein main tan-man dhan se aur poori nishtha se aadarneeya Varun Bhaiya ka poore se poora sahyog karoonga (I will totally devote myself fully to ensuring a victory for Varun in the next Lok Sabha elections from here)".