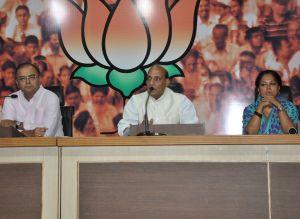 With assembly elections just months away in Rajasthan, the Bharatiya Janata Party has been dealt a major blow with the Central Bureau of Investigation chargesheeting senior party leader Gulab Chand Kataria in the Sohrabuddin fake encounter case.

Considering that Kataria is known to be a favourite with the Rashtriya Swayamsevak Sangh and is a dark horse in the race for the chief ministership in Rajasthan, sources say the CBI action may have come as a blessing for fellow party leader Vasundhara Raje Scindia who is not known to be on the best of terms of terms with him.

The chargesheet actually suits Vasundhara, who was in Delhi on Wednesday to defend Kataria and attack the CBI along with party president Rajnath Singh and Leader of the Opposition in the Rajya Sabha Arun Jaitley.

The BJP claims that the entire episode is actually an attempt to implicate Gujarat Chief Minister Narendra Modi in the case.

The CBI too has given indications that it has been probing Modi's role in the entire episode.
Kataria was the home minister in the Vasundhara Raje government when Sohrabuddin was killed in an encounter in November 2005 and sources say that the CBI has ample evidence in its possession

BJP leaders though claim that the CBI inquiry will soon progress from Kataria to Modi.
Kataria is a big force in the Mewat region and sources say that the Bania vote in the region may take a hit by the latest development.

BJP leaders allege that the central government may be using the CBI to dent the BJP in this region considering that the state is headed for polls.
For the Congress, Rajasthan is crucial. However, the Ashok Gehlot government's credibility and the party's image have taken a beating over the last five years.

A large number of castes have turned against the chief minister.
Out of the basket of states going to the polls in November, the Congress now considers Rajasthan as its weakest spot.

So far, party surveys have shown that the Gehlot government may find it hard to stage a comeback in the state.