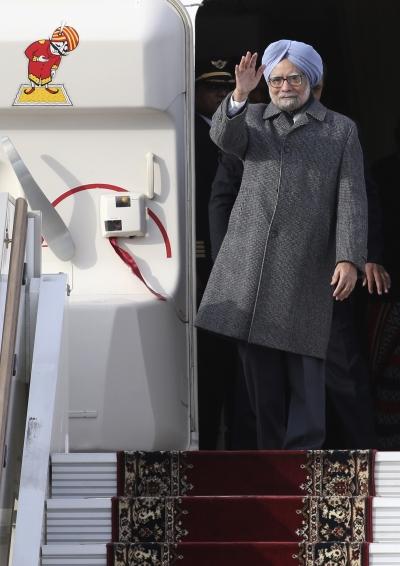 Prime Minister Manmohan Singh left for China on Tuesday on the second leg of his two-nation tour after meeting Russian President Vladimir Putin in Moscow during which the two leaders pledged to "resolve all outstanding issues" related to the Kudankulam nuclear project.
During his Russia visit, the prime minister met Russian President at Kremlin Palace in his fifth annual summit with Putin and the 14th summit between the two countries.
A joint statement issued at the end of the talks said the two sides agreed to "expeditiously finalise" the General Framework Agreement and the techno-commercial offer for Units 3 and 4 of Kudankulam nuclear power project.
Both leaders and the joint statement touched on various areas of cooperation between the two sides, including defence, energy, high-technology trade, investment, space, science, education, culture and tourism.
On terrorism, the joint statement condemned the scourge in all its forms and manifestations and the two sides agreed that there should be no tolerance for sheltering, arming, training or financing terrorists.
The two countries noted that their stand on international issues like Afghanistan, Syria and Iran were "very close" as India lauded Russia's role in seeking a peaceful resolution of the nuclear crisis with Iran and the Syrian problem.
Dr Singh was also conferred an honorary doctorate by the prestigious Moscow State Institute of International Relations.
In China, after discussion and lunch with the Chinese Premier
Li Keqiang, the PM will be hosted at a dinner by President Xi Jinping, a rare honour for an Indian leader.
As the world's two most populous nations and largest emerging economies, India and China have a growing congruence of regional, global and economic interests, driven by respective developmental aspirations and shaped by the evolving strategic environment, Singh had said in New Delhi.

Image: Prime Minister Manmohan Singh waves as he walks out of the plane at Moscow's Vnukovo airport

Photograph: Sergei Karpukhin/Reuters