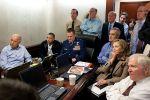 There has been no evidence that Pakistan leadership knew of the presence of Osama bin Laden inside their country, a top Pentagon commander has said citing post-raid analysis of the secret operation that killed the most wanted terrorist of the world.
Navy Adm William McRaven, Commander of US Special Operations Command, said at the Hero's Summit in Washington that post-raid analysis of the raid indicates that the Pak leadership was not aware of his presence.
"How could they not know he was there?" he asked.
"We have no intelligence that indicates the Pakistanis knew he was there," he added.
McRaven also said that US leadership decided not to inform the Pakistan about the raid in advance as they believed informing Pak about the raid in advance would have put the mission at risk.
Sharing details of the daring raid, McRaven said best commandoes were picked up for this raid to kill Laden.
"We hand-picked the guys. They were the best of the best, all across the board. They had extensive combat experience, and consequently I was very confident," he said.
McRaven said, even while Osama bin Laden is dead, non-state actors continue to pose a threat.
"We've done a terrific job of taking care of the core of Al Qaeda. But there's no such thing as a local problem anymore. Everything in the world is connected," he said.
He said to minimise the rise of violent extremism, "You have to create the conditions on the ground where people have good jobs, where there is the rule of law, stability and good governance."
"The raids get all the media attention. But the reality of the matter is the bulk of what we do is building partner capacity and working with host nations. I think that's the future of special operations," McRaven added.
Responding to questions, McRaven said the US relationship with Pakistan is improving.
"I think it's improving. We obviously went through a rough spell, but we have -- it's a complicated relationship with Pakistan, but it's a good relationship. It is getting stronger, and I think we need to try and make it stronger," he said.
"We need to kind of put our differences aside because understanding the problems in Pakistan and working with the Pakistanis to deal with their terrorist problems and the terrorist problems that are emanating from Pakistan is crucial for our eventual success," he said.
When asked why did Pakistan was not informed on the bin Laden raid, he said, "We didn't trust them because we didn't share the mission with them."
"Yeah, again, not my decision, but I would have voted for the decision that was made because it was just too risky to bring them in because part of the thinking was, how could they not know he was there?  But everything afterwards indicates that they just didn't know he was there. He was hiding in plain sight," McRaven said.