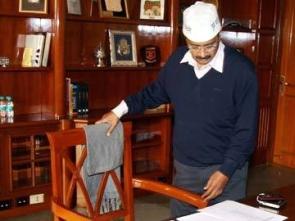 Hardening his stand on the passage of two key bills, Arvind Kejriwal on Monday renewed his threat to quit, saying he was ready to sacrifice the chief minister's post a "thousand times" to ensure "swaraj" and give power to the common people.
"Swaraj ke liye aur satta seedhe janta ke haath mein dene ke liye 1000 baar CM ki kursi kurbaan. Ye azadi ki duari ladai hai (I can sacrifice the post of the chief minister thousand times for swaraj and to ensure power to the people. This is the second war of independence)," Kejriwal tweeted.
On Sunday, he had threatened to resign if the Jan Lokpal Bill is not passed by the state assembly due to lack of support from other parties. The Swaraj Bill intends to hand over power directly to the people at the local level by setting up of mohalla sabhas.

"Desh se corruption mitane ke liye 100 baar CM ki kursi kurbaan (To fight corruption in the country, I can sacrifice the post of CM a hundred times)," he said in another tweet.
The AAP government plans to table the Jan Lokpal Bill and Swaraj Bill on the floor of the Delhi assembly on February 13.
The Jan Lokpal Bill has been opposed by the Congress, whose continued support is essential for the survival of his seven-week-old government, as well as the Opposition Bharatiya Janata Party.
Kejriwal has been maintaining that there is no need to obtain prior approval from the home ministry before introducing the Jan Lokpal Bill in a special session of assembly beginning February 13.
The BJP and Congress are of the view that clearance is necessary under Transaction of Business Rules (TBR), 2002.
Bringing the Jan Lokpal bill to contain corruption was a key election promise made to the voters by his Aam Aadmi Party.
Lt Governor Najeeb Jang has sought the Union law ministry's opinion on the constitutional position whether it was necessary for the Delhi government to obtain prior approval from the Centre before tabling the Jan Lokpal Bill in the assembly.

Image: Delhi Chief Minister Arvind Kejriwal has threatened to quit if the Jan Lokpal Bill is not passed

Photograph: AAP/Facebook