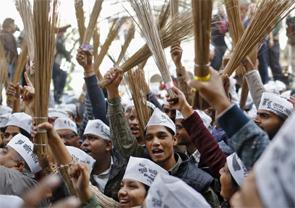 'For the first time in 66 years, here is a leader who democratically dares to take on the establishment by raising the right kind of questions.'
'When will the poor get justice? For how many years will the migration of the poor to cities like Mumbai continue? How long will the poor sleep on the pavements and when will all this end?'
A well-received column last weekend criticised Arvind Kejriwal's vision of Swaraj, prompting Syed Firdaus Ashraf to rebut it.
When I look out of my apartment in central Mumbai, I see two very different worlds in which India lives.
Let me take you on a tour of the first world.
This is a world where non-stop traffic moves 24 hours a day, and one sees all kinds of cars zipping by.
Fifteen years ago, when I moved to Mahim, there were not as many Lexuses, BMWs, Audis... on Mumbai's roads.
On any given day today, you find BMWs, Audis, Mercedeses and other high end automobiles speed past.
Law and order is maintained, the traffic is more or less disciplined, everybody appears content in this utopian universe.
The second world is Arvind Kejriwal's ki chitra katha.
Homeless people sleep on the very pavements from where you can see luxury cars zip past.
This is the other India that I view each day. Few ever ask these Nowhere People where they come from and why they sleep on the streets.
In the 15 years that the National Democratic Alliance and United Progressive Alliance governments have ruled India, the number of homeless people has increased three fold.
From 10 people on one pavement 15 years ago, the number has touched 30 people now.
By 8 am they disappear from the pavements as if they were never there in the first place! And by nightfall, they are a constant reminder to everyone in this city that even if India has the latest cars, nothing has changed in these poor people's lives.
Only one truth is a constant reminder to Mumbaikars -- that poverty has not been eradicated. Far from it.
We talk of global power and missions to Mars, but our governments are unable to provide basic shelter and amenities to most people in our country.
Not long ago, I spoke to some of these Nowhere People who sleep on the pavements night after night.
One man said he was from Allahabad and had come to Mumbai because there was no work for him in his hometown. He did odd jobs in Mumbai and earned Rs 100 to Rs 200 a day depending on the work he did.
Another man was employed as a waiter in a restaurant. He was a native of Karnataka and confessed that since he was new at work the restaurant's owner did not trust him enough to let him sleep on the premises. So he slept on the roadside, hoping that his employer would eventually trust him enough to let him sleep in the restaurant.
The third was a migrant from Bihar and he said something about Mumbai which I was surprised to hear.
Most poor migrants, he said, prefer Mumbai because of its weather. "In Mumbai," he said, "one can sleep under one sheet because the temperature is not freezing unlike other (north Indian) cities."
Why did they migrate, I asked, and prompt came the answer: "No jobs at home."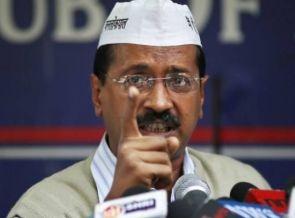 For the first time in 66 years, we have a leader who democratically dares to take on the establishment by raising the right kind of questions.
When will the poor get justice?
For how many years will the migration of the poor to cities like Mumbai continue?
How long will the poor sleep on the pavements and when will all this end?
Media professionals who call Arvind Kejriwal, left, 'anarchist' miss the point completely.
I believe the media has become such an integral part of the system that journalists have stopped looking at the problems of the poor and downtrodden.
So who cares about the homeless and poor?
Who cares about the village economy?
Who cares about Swaraj?
Instead of appreciating that Arvind Kejriwal is trying to highlight the problems of the poor by bringing in Swaraj, the media goes hammer and tongs at Kejriwal's idea of Swaraj.
What is the reason for this scorn, one wonders. Perhaps, journalism, once a sanctuary for idealistic jholawalas, has become a very different world.
In 1958, Sahir Ludhianvi wrote a paean for the homeless: Rehney Ko Ghar Nahi Hain, Saara Jahan Hamara, Hindustan Hamara for the film Phir Subah Hogi.
One does not know if Arvind Kejriwal can solve the problems of the poor or not.
About 56 years after the release of Phir Subah Hogi, those problems persist and here is a leader who raises these issues.
Parties like the Bharatiya Janata Party and the Congress have abandoned Swaraj and issues like self-sufficiency in villages. And so has the media, it seems.
Image: Aam Aadmi Party supporters wield its election symbol, the broom, during a rally. Photograph: Anindito Mukherjee, Reuters