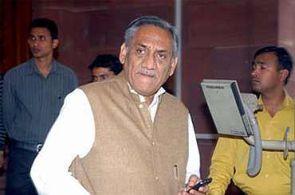 Congress President Sonia Gandhi held a meeting with senior party leaders on Wednesday amid reports that a final call on the fate of Uttarakhand Chief Minister Vijay Bahuguna will be taken soon.
Party General Secretary Ambika Soni was present during the meeting besides senior leaders Ghulam Nabi Azad, Janardan Dwivedi and Ahmed Patel, political secretary to the Congress chief.
After the meeting, party sources said that a decision on continuance or otherwise of Bahuguna as chief minister will be taken soon.
Bahuguna has been under pressure ever since he was appointed. The flash floods that hit Uttarakhand last year and the massive rescue and rehabilitation work they entailed also brought his leadership skills into question.
Incidentally, delegations of MLAs and other Congress leaders from the State have been regularly meeting central party leaders in Delhi over the past six months to press for Bahuguna's ouster.
The Congress, with 33 members in the Assembly, enjoys the support of the seven-member Progressive Democratic Front that comprises three independents, three members of the BSP and one MLA of the Uttarakhand Kranti Dal. The remaining 30 MLAs are of the BJP.