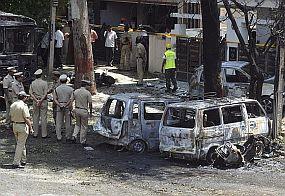 Why has terror revisited Bengaluru thrice in the past four years? A new theory states that the failure of investigation agencies in identifying the bomb signature and thereby not being able to bust sleeper cells could be a reason why terrorists have been able to strike at will.

Rediff.com has access to an important report by a security agency which narrates in detail how the recurrence of a bomb blast is directly connected to the detection of bomb composition and a sleeper cell.


According to the report, the process of recruiting and training a sleeper cell normally takes at least five years.
In the case of outfits like the Lashkar-e-Tayiba, it goes up to even eight years.

The Bengaluru Police's counterparts in Coimbatore and Jaipur did an extremely thorough job in this regard.
Since each bomb bears a signature, the agencies had their task cut out.
They detected each and every component of the bomb that led them to the various sleeper cells. The modules were neutralised thereafter.

Once a module is busted, the terror groups need to come up with an entirely new strategy before they even plan an attack in such a place.

Coming up with a new strategy would mean setting up new sleeper cells, training recruits and devising a bomb with a new technique. This process normally takes between 5 and 8 years, the report states.
This is what sleuths in Bangaluru, Mumbai and Hyderabad did not do.

In Hyderabad, the police are still not sure about the exact composition of the bombs that were used in the attacks on the city. Moreover, they have not really managed to figure out which sleeper cell in the city has been responsible for the attack.

The theory that modules from outside carried out the blast is not entirely a safe argument, as no operation is possible without the help of a local sleeper cell.


In Mumbai too, the case is similar. The Maharashtra ATS is groping in the dark over bomb composition. After the 13/7 blasts, they claimed that the evidence was washed away due to rains. They are also struggling to find out the sleeper cells which could have helped the Darbhanga module carry out the attack.


Bengaluru is no different. In fact, the serial blasts and the Chinnaswamy attack continue to be mysteries. There are cases filed against several youth and the Indian Mujahideen has been blamed. But then this is a case that has been done for the sake of a chargesheet/conviction.

The police in Bengaluru, Mumbai and Hyderabad are in reactionary mode.

According to the report, they understand that a sleeper cells wakes up once a year to either carry out an attack or conduct a reccee. Hence, it becomes very important that these cells are negated or neutralised and for this there needs to be a constant vigil and will.