Congress strategists are worried that if it focuses too much on the Tehelka issue, it could end up diluting its ongoing campaign against Gujarat Chief Minister Narendra Modi on the snooping allegations. Anita Katyal reports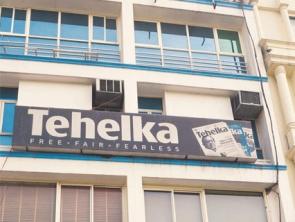 The Bharatiya Janata Party's allegation that the Congress is protecting and patronising disgraced Tehelka founder-editor Tarun Tejpal has raised serious concerns in the grand old party about its handling of this sensitive issue.
Congress strategists are clearly in a dilemma: the party cannot afford to ignore or remain silent on the Tejpal issue, as it would only strengthen the impression that it is soft on the Tehelka founder-editor. On the other hand, if it focuses its attention on the Tejpal saga to the exclusion of all other matters, it could end up diluting its ongoing campaign against Gujarat Chief Minister Narendra Modi on snoopgate.
"With the Congress president taking a strong stand on women's issues after the December 16 gangrape incident, the party can hardly afford to be soft on the Tejpal episode. But we have to keep alive the Modi issue," said a worried senior Congress office-bearer. He admitted that the BJP charge is gradually gaining currency.
He said the Congress strategy is to ensure that the snooping allegations against Modi do not disappear from newspaper headlines. "We have to sustain this campaign till December 5 when the winter session of Parliament is slated to commence," said a senior Congress strategist.
He said they have to keep up the momentum on the snoopgate issue as the BJP is obviously embarrassed by it and would like to deflect attention by focusing on the Tejpal case and painting the Congress as his protectors.
"Modi has not said a word on the issue…we have him and the BJP in a bind. We cannot allow this opportunity to slip by," disclosed a senior Congress strategist.
Consequently, the Congress has to constantly calibrate its responses on the Tejpal-Modi issues. Its spokespersons and its women ministers have, therefore, been instructed to frame their arguments in both these incidents in the context of women's security while reiterating the party's commitment on the issue. "They have been asked to club the two issues," a senior Congress maintained.
Well-placed Congress sources told rediff.com that their party was hamstrung in its initial responses on the Tehelka episode because of the known proximity of some of its ministers with Tarun Tejpal.
Law and Communications Minister Kapil Sibal, Information and Broadcasting Minister Manish Tewari and Commerce Minister Anand Sharma are known to be on friendly terms with Tehelka's founder-editor.
While Sibal has admitted donating Rs 5 lakh to Tejpal when he started the magazine, Tewari has been his lawyer and had even recommended his name for a place on the Prasar Bharati board. Fortunately for the minister the recommendation had not been cleared by Vice-president Hamid Ansari.
Tewari's initial response to the charges against Tejpal could, at best, be described as lukewarm. Never shy of speaking out on any subject, Tewari has been unusually silent on this particular issue.
A rattled Kapil Sibal, however, called an impromptu press conference on Wednesday to deny rumours that he is a relative of Tarun Tejpal. He clarified that he did not own a single share in Tehelka.
Sibal's response followed BJP leader Sushma Swaraj's tweet. "A Union Cabinet minister, who is the founder and patron of Tehelka, is shielding Tarun Tejpal," she said on Twitter today. She, however, did not name Sibal.
While Sibal came out with his clarification, Congress spokesperson Randeep Surjewala and Mahila Congress chief Shobha Oza reiterated their party's commitment to the protection of women's safety, adding that the Congress firmly believed that all persons who are charged with harassing a woman must be punished as per the law.
"Whether it is a chief minister of a state or an editor of a magazine, the law applies equally to both," they said.
Oza went on to charge that in case of the Tejpal incident, the BJP is politicising a personal issue but in the case of snooping charges against Modi, it has converted a public issue into a personal one.
Speaking in the same vein, Congress spokesperson P C Chacko said that whether it is the snoopgate involving Modi or the rape case against Tehelka journalist Tarun Tejpal, the Congress applies the same yardstick. "Whether it is Tejpal or Modi, we see it the same way. We will raise our voice against all such cases," he said.
The Congress also lambasted the Gujarat government's move of setting up a two-member Commission of inquiry to probe the snooping allegations against Modi. The Congress said it was nothing but a "Modi bachao" commission and reiterated its demand for a probe by a Supreme Court judge.
This panel, according to Surjewala, is an eyewash as one of its members is a former chairperson of the Gujarat Backward Class Commission and the other is a retired additional home secretary who worked under Amit Shah, the former state home minister, who is also charged in the case of snooping.